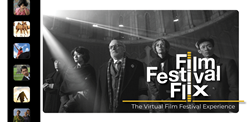 "We want everyone to know that virtual film festivals are available to them now. In-person festivals may have been much less accessible in the past, but virtual changes the game." -Benjamin Oberman, CEO, Film Festival Flix
LOS ANGELES (PRWEB) February 19, 2021
If you listen to the popular podcast Armchair Expert, you might have heard actor-director-host Dax Shepard in a recent episode venting frustration about the difficult process of trying to watch a big-ticket, virtual-release movie from home. Scanning QR codes, downloading software, entering ticket or pass numbers in multiple systems. . . these are the frustrating steps that have some movie-watchers just throwing in the towel (as Shepard, it turns out, ended up doing for this particular film). CEO of Film Festival Flix, Benjamin Oberman, believes that the user experience can be simple, while the content remains secure.
"Our goal has been to keep the patron's experience as easy and user-friendly as possible—no codes or software downloads, availability across multiple apps and any device the patron already owns. Smart TV, computer, tablet, phone. . . and we make that happen without sacrificing content security or streaming quality. We're proud of that."
The Film Festival Flix website provides step-by-step tutorial videos to guide patrons through logging in, purchasing, and finally watching their selection on the device and by means of the app or channel of their choice. Online, Roku, Apple TV. . . and now the Film Festival Flix Amazon Fire TV App is on that list as well.
"The Amazon Fire Stick is a great little device because it's portable, it's affordable, and it's basically plug-and-play. All of these qualities make having an Amazon Fire TV app for Film Festival Flix, accessible with the Amazon Fire Stick, consistent with the Film Festival Flix commitment to a friendly user experience." -Amber Davis Johnson, Director of Communications, Film Festival Flix.
Beyond an exceptional user experience, Film Festival Flix is committed to helping film festivals grow more diverse, global audiences through awareness, education, and availability.
"More apps, more channels mean more participation from people in various demographics and regions around the world. We want everyone to know that virtual film festivals are available to them now. In-person festivals may have been much less accessible in the past, but virtual changes the game," says Oberman.
Go to FilmFestivalFlix.com to learn more about current and upcoming festivals, year-round channel subscriptions, and ways you can watch—from anywhere.