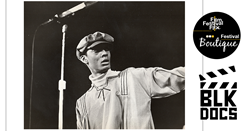 "We desired to celebrate Irvine's legacy, alongside celebrating the growing career of filmmaker Victorious De Costa, whose bridging of community activism and deft storytelling, should be seen by as many audiences as possible." -Christopher Everett, Speller Street Films
LOS ANGELES (PRWEB) April 06, 2021
Who is Weldon Irvine? A writer. A pianist. A composer. An arranger. And one of the most influential musicians you've probably never heard of. In "Digging for Weldon Irvine," the first virtual screening of the BLK Docs series on Film Festival Flix, award-winning director Victorious De Costa (Dirty Hearts, Love Seat), explores Irvine's deep influence on the Black Arts Movement, the evolution of hip-hop, and the development of modern jazz.
"Our virtual screening of "Digging for Weldon Irvine" takes place on the 19th anniversary of Mr. Irvine's death," remarks Christopher Everett, co-founder of BLK Docs, "And so we desired to celebrate Irvine's legacy, alongside celebrating the growing career of filmmaker Victorious De Costa, whose bridging of community activism and deft storytelling, should be seen by as many audiences as possible."
Film Festival Flix has a long history of bringing premier, curated, independent cinema to a global audience. Founded in 2011, the platform began hosting virtual film festivals, and virtual components of in-person festivals, long before COVID-19 pushed the entire film festival industry down the virtual road.
"The great thing about virtual film festivals and these niche virtual film screenings," says Amber Davis Johnson, Director of Communications for Film Festival Flix, "is that absolutely anyone with an internet connection can participate. Someone who may have a real desire to seek and find and participate in the rich community and cultural representation that BLK Docs offers can do that no matter where they are in the world, and that's something that couldn't necessarily happen with in-person screenings in the past."
BLK Docs is a project created in partnership between two organizations: The Luminal Theater and Speller Street Films.
The Luminal Theater is a nomadic cinema that provides fully-curated exhibitions of diverse cinema and media of the Black/African diaspora, allowing artists to present their work within a unique brand of shared audience experiences, centered in predominantly Black communities. The Luminal serves an eager population of filmmakers, media-makers, film enthusiasts, multiple discipline artists, and art-minded people, all looking to use Black cinema to reignite imagination and media storytelling in the Black community.
Founded in 2015, Speller Street Films is a Durham, North Carolina-based creative film studio committed to developing and producing cinematic content in a variety of mediums for the global marketplace. Speller Street Films also serves as a film marketing and distribution consulting agency providing a new lane for hybrid distribution and community engagement strategies.
Interested viewers can participate by going to FilmFestivalFlix.com and finding BLK Docs in the Virtual Festival menu. All programming on Film Festival Flix can be accessed and viewed via any device—smart TV, computer, tablet, or smart phone—using familiar apps like Apple TV, Amazon Fire TV, Roku, and more.
Film Festival Flix and BLK Docs expect to announce more documentary screenings in the coming weeks.