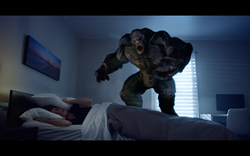 HOLLYWOOD, Calif. (PRWEB) January 26, 2021
Prolific film writer and director Alex Ranarivelo has leapt over to the commercial side to write, direct and produce his first spot for family business SnoreStop®.
The spot, entitled 'Conquer your Monster,' is the first work he has done for SnoreStop®, the successful 'snoring specialists' company Alex's parents started in 1995 and is still owned and operated by the family today.
The execution depicts a young girl in medieval knight PJs bravely running into her parents' room to slay a hideous (CGI) monster as her 'mother' cowers in terror. The monster actually turns out to be her father's snoring. The spot ends with the girl reminding dad he "forgot" his SnoreStop®.
View the spot here:
https://www.youtube.com/watch?v=WIfKdPfG1hg&feature=youtu.be
Made on a shoestring budget under $5,000, an entire crew of seven and fully Covid-19 compliant, the goal was to make as BIG a spot as possible under the circumstances and budget constraints.
"It really was a family affair," said Ranarivelo, who himself plays the dad in the spot, along with his niece as the girl, sister-in-law as the mother and lifelong friend Reuben Steinberg as director of photography. "By working together with what we had we were able to make a "Big Game" size spot on a YouTube budget." A big part of that was the legitimately scary and imposing monster brought to life by visual effects artist Connor Thomas, who, like Steinberg, had previously worked on Alex's features.
Alex also has a Lionsgate film premiering on VOD on January 22, 2021, an MMA drama called "Born a Champion" starring Dennis Quaid and Sean Patrick Flannery.
About Alex Ranarivelo
Alex was born in Saint-Jean-d'Angely, France and raised in New York and Los Angeles. A prolific writer and director, Alex has written and directed over 10 films for both the U.S. and international markets and worked with such esteemed talent as Jane Seymour, Sharon Stone, Chris "Ludacris" Bridges, Lea Thompson, Tommy Flanagan and Dennis Quaid.
In 2010, Alex's action adventure script "The Girl With No Name" won the Grand Prize at the Slamdance Film Festival Screenwriting Competition and was subsequently purchased by Co-Op Entertainment. Alex went on to direct 10 films for ESX Entertainment, including "American Wrestler", about a 17 year-old Iranian refugee who defies adversity and becomes the high school wrestling champion during the Iran hostage crisis of 1980. The film won multiple awards on the festival circuit including "Best Picture" and "Best Ensemble" at the Boston Film Festival and the Audience Award at the Austin Film and Napa Film Festivals.
Alex harnessed his love of motor sports for two of his films, "Dirt," set in the redneck sport of off-road truck racing, and "Bennett's War," set in the world of motocross, which was theatrically released in 2019. Alex's next movie "The Ride", premiered on Amazon Prime in November 2020. His latest movie, the Mixed-Martial-Arts drama "Born a Champion" is set to release in January 2021.
For Alex's full film bio please see:
https://www.imdb.com/name/nm1156199/
About SnoreStop®
Since 1995, SnoreStop® has offered easy-to-use sprays and tablets. SnoreStop® is the only medically proven over-the-counter natural solution to snoring that is not a device. The natural remedies procure real therapeutic benefits with no side effects. For more info, please see: https://snorestop.com.
CREDITS:
Spot Title: "Conquer Your Monster"
Client: SnoreStop®
Producer: Alex Ranarivelo
Director: Alex Ranarivelo
Director of Photography: Reuben Steinberg
Co-Producer: Daniel Aspromonte
Associate Producer: George Kosturos
Visual Effects Artist: Connor Thomas
Hair and Makeup: Erin Blinn
Audio Mix & Sound Design: Alex Ranarivelo
Music: Amadeus Mozart
The Girl: Athena Devemark
Mom: Melody Devemark
Dad: Alex Ranarivelo