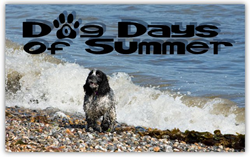 During the Dog Days of Summer, do not forget about the personal needs of your pets. -Filtersfast.com
Charlotte, NC (PRWEB) August 26, 2013
The Dog Days of Summer Celebration begins today at Filtersfast.com, the leading online retailer of water filters and air filters. Pet owners, who are persnickety about the well-being of their canines or felines, can take advantage of the exclusive deals on pet products from 3M Pruven, Hagen and WaterQuik during this event.
The hot, sultry days of summer reminds consumers to take precautions with their pets, especially where dehydration can be as deadly for animals, as it is for humans. Heat related illnesses are not only for humans to be concerned about, but pet owners also need to make sure that precautions are taken for their pets when faced with extreme heat and other related conditions. Four items featured during this Dog Days of Summer event includes Hagen Dogit Pet Drinking Fountain, Hoover Pet Odor Absorbing Vacuum Cleaner Bags, WaterQuik Pet Fountain and 3M Pruven Pet Care Products. The Hagen Dogit Pet Drinking Fountain provides a consistent supply of clean, fresh drinking water for pets through re-circulating water flow. This fountain can also be used for other larger pets. Hoover Pet Odor Absorbing Vacuum Cleaner Bags capture pet odors, microscopic allergens, pollen, dust mite debris and indoor dust. Be sure to check the Filtersfast.com for bags to fit individual vacuum cleaner models. The WaterQuik Pet Fountain easily attaches to a garden hose or spigot to provide clean filtered drinking water for pets while they are outdoors during the hot weather. 3M Pruven Pet Products features an assortment of pet hair surface rollers, training pads, waste bag dispensers, litter trap mats and puppy house training aids for the convenience of pet owners.
Since 2004, Filtersfast.com remains committed as the authoritative resource for consumers regarding the importance of changing residential and commercial water filters and air filters on a regular basis. The company strives to add to their customer's overall quality of life by offering first-rate products at the best competitive prices. By saving customers time and money, they simplify a sometimes mundane, but very necessary task. Helping consumers understand the importance of regular water and air filtration maintenance is the company's mission. For more information regarding their large assortment of water filters, air filters, faucet filters, pool and spa filters, or pet care products, visit http://www.filtersfast.com or call their customer service department at 1-866-438-3458.