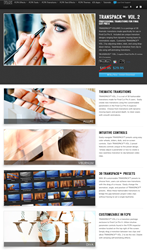 TransPack Volume 2 gives professionals a fun way to transition from one clip to the next
Aliso Viejo, California (PRWEB) September 13, 2014
Motion Graphics artist at Pixel Film Studios have announced the release of a new transition pack entitled TransPack Volume 2 exclusively for Final Cut Pro X.
"TransPack Volume 2 gives professionals a fun way to transition from one clip to the next." Said Christina Austin, CEO of Pixel Film Studios. "A user can never have too many transition options and TransPack Volume 2's professional styles makes this pack a fun choice."
TransPack Volume 2 is a package of 30 thematic transitions made specifically for use in Final Cut Pro X. Included are unique transition designs ranging from dynamic moving layers to minimalistic wipes. Customize TransPack Volume 2 by adjusting sliders, dials, and using drop-down menus. Seamlessly transition from clip to clip using self-animating transitions.
TransPack Volume 2 is a set of 30 fashionable transitions made for Final Cut Pro X users. Easily create new transitions using the customizable parameters in the Final Cut Pro X inspector window. Choose from transitions with dynamic moving layers and grand depth, to clean wipes with smooth animations.
Easily navigate TransPack Volume 2 presets using easy color wheels, sliders, dials, and on-screen controls. Each TransPack Volume 2 preset features controls unique to the preset design. Simply adjust a parameter or two to create a new seamless transition to slip between video clips.
With 30 customizable TransPack Volume 2 presets to choose from, users can achieve new transitions with the drag of a mouse. Easily change the animation, angle, and position of TransPack Volume 2 presets. Allow these fashionable transitions to bridge the gap between project video clips without having to set a single keyframe.
TransPack Volume 2 is a transition package exclusive to Final Cut Pro X. Utilize intuitive parameter controls found in the FCPX inspector window located on the top right of the screen. Simply drag a transition between two clips and allow TransPack Volume 2 to do the rest. Dazzle with amazing self-animating effects.
Established in 2006, Aliso Viejo, California-based Pixel Film Studios is an innovative developer of visual effects tools for the post-production and broadcast community. Their products are integrated with popular non-linear editing and compositing products from Apple FCPX. All Apple, the Apple logo, Mac OS X, and Macintosh are registered trademarks of Apple Inc. in the U.S. and/or other countries. All other trademarks and trade names are the property of their respective owners.