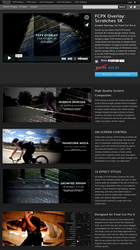 Scratches 5K allows users to overlay grungy scratch effects to any media inside Final Cut Pro X
Aliso Viejo, California (PRWEB) March 28, 2015
Designers and Professionals of FCPX plugins have announced a new overlay entitled Scratches 5K from Pixel Film Studios.
"Scratches 5K allows users to overlay grungy scratch effects to any media inside Final Cut Pro X" Said Christina Austin, CEO of Pixel Film Studios. "StoryBoard Corporate saves time and is an effective tool for any FCPX editor."
Scratch up any media using FCPX Overlay Scratches 5K's intuitive grunge overlays. Simply drag title layers into the FCPX timeline on top of footage to apply. FCPX Overlay Scratches 5K comes packed with thousands of sample frames spread throughout 10 ranges of scratch material for users to take advantage of. Effortlessly create dynamic grunge effects, or subtle lens scratches in no time. FCPX Overlay Scratches 5K is a Final Cut Pro X exclusive.
FCPX Overlay Scratches 5K includes thousands of scratch texture images spread evenly throughout 10 diverse presets. Each preset contains hundreds of unique sample textures and contain scratch footage ranging from light scratches to heavy scratches and dents. All scratches included are shot in 5K resolution and can be used effectively within any project size 5K or below.
Unlike other overlays, FCPX Overlay Scratches 5K comes with an on-screen-control that allows the user to manipulate underlying footage in a 3D space. Users can control the position as well as the scale and rotation of X, Y, and Z. FCPX Overlay Scratches contains a frame control section and a vignette so that users may adjust the softness of the edges and allow footage to be maintained in full screen, or scaled down.
All ranges in FCPX Overlay Scratches 5K come preset to the standard overlay style, but 17 other overlay styles are available to the user in Final Cut Pro X using a drop-down-menu in the Inspector window. Choose between rigid lighting, smooth, enhancing, and many more blend styles to achieve an array of unique looks. Combine effect styles with vignette adjustments and enhancement controls to create even more unique looks.
FCPX Overlay Scratches 5K was professionally designed by the team at Pixel Film Studios for FCPX. As an FCPX title, this tool can be dragged-and-dropped onto the timeline over footage, or a still image. Users can now make adjustments to the title layer which will now affect the underlying layers. FCPX Overlay Scratches 5K also contains easy-to-use controls built into the Final Cut Pro X Inspector that allow users to customize their overlays quickly.
Established in 2006, Aliso Viejo, California-based Pixel Film Studios is an innovative developer of visual effects tools for the post-production and broadcast community. Their products are integrated with popular non-linear editing and compositing products from Apple FCPX. All Apple, the Apple logo, Mac OS X, and Macintosh are registered trademarks of Apple Inc. in the U.S. and/or other countries. All other trademarks and trade names are the property of their respective owners.