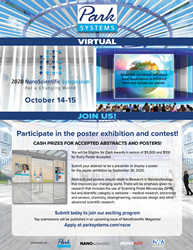 Each accepted abstract will receive $100 and prizes totaling $5,000 will be awarded in several categories. Submit an abstract or register today at parksystems.com/nscw.
SANTA CLARA, Calif. (PRWEB) September 15, 2020
Final Call for Abstracts announced for the Virtual NanoScientific Symposium for a Changing World (NSCW), which will be a live, interactive virtual event held on Oct. 14-15, 2020. Abstracts are now being accepted for attendees who wish to demonstrate their work in the form of an oral or poster presentation until Sept. 30, 2020. Each accepted abstract will receive $100 and prizes totaling $5,000 will be awarded in several categories. Submit an abstract or register today at parksystems.com/nscw.
Abstract presentation awards will include $100 for every abstract accepted and awards of $500 for categories including audience choice, best presentation, microscopy award and most promising future application. Accepted abstracts will present their work on the live virtual theater stage, earn a chance to be published in NanoScientific and participate in a live chat at the event.
Poster exhibition awards will also include $100 for every accepted poster as well as $500 awards for audience choice, best poster, and most promising future application. Posters in the Virtual Poster Hall will link to the full research paper and include a live chat feature.
Park Systems launched this online event for researchers and scientists in nanoscience and nanotechnology to share data on how new nano applications under research will lead to discoveries that have a tremendous positive impact on the world. Learn how exciting nanotechnology research into biomaterials, cell biology, bio-sensors, flexible nanoelectronics, nanostructures and patterning, medical micro robotics, and more are poised to transform industries across the globe in healthcare, energy, electronics, textiles and agriculture, to develop a sustainable economy and a cleaner planet.
Submit your abstract and get a chance to have your research published in NanoScientific. Register today to attend this event where presenters and attendees will join together in a worldwide effort to present breakthroughs in nanoscience applications and research where nano application knowledge can be harnessed to create a smarter future.
NanoScientific Symposiums worldwide are presented by Park Systems as a way to enable scientific advances especially in the field of nanometrology. NSCW is hosted by NanoScientific Magazine with sponsors Physics World and Nanotechnology World Association.
Submit your abstract today to ensure your opportunity to present at this exciting event.
For information on how to register and submit an abstract go to: parksystems.com/nscw
About Park Systems
Park Systems is a world-leading manufacturer of atomic force microscopy (AFM) systems with a complete range of products for researchers and industry engineers in the chemistry, materials, physics, life sciences, and semiconductor and data storage industries. Park's products are used by more than a thousand institutions and corporations worldwide. Park's AFM provides the highest data accuracy at nanoscale resolution, superior productivity, and the lowest operating cost, thanks to its unique technology and innovative engineering. Park Systems, Inc. is headquartered in Santa Clara, California with its global manufacturing and R&D headquarters in Korea. Park's products are sold and supported worldwide with regional headquarters in the US, Korea, Japan, Singapore, Germany, China and Mexico, and distribution partners throughout Europe, Asia, and the Americas. Please visit http://www.parksystems.com for more information.
About NanoScientific
NanoScientific Journal is published quarterly to showcase advancements in the field of nanoscience and nanotechnology across a wide range of multi-disciplinary areas of research. Each issue covers informative articles about nanotechnology trends balanced with leading edge scientific research applications and concepts. NanoScientific has been published since 2014 and has a global distribution of over 30,000 in North America, Europe and Asia. NanoScientific Symposiums are offered worldwide to share scientific knowledge and foster ongoing relationships in the field of Nanotechnology. Please visit http://www.nanoscientific.org.
About Physics World (sponsor)
Physics World helps scientists working in academic and industrial research stay up to date with the latest breakthroughs in physics and interdisciplinary science. We provide an international readership with a unique mix of daily news, opinion and analysis from an award-winning team of science writers and editors. For more information, go to: physicsworld.com
About Nanotechnology World Association (sponsor)
The Nanotechnology World Association (NWA) was created to help accelerate the integration of nanotechnologies in various industries — such as medical, energy, electronics, transportation and materials — by providing information, resources and tools, by connecting researchers and organizations, and by fostering knowledge sharing and cooperation. Nanotechnology World Association is a global community, encouraging collaboration and investment in nanotech innovation. We support networking, partnering, and educational opportunities to promote progressive thinking across the world. The Nanotechnology World Association has a vast network of over 100 K individuals and organizations who are leading the research, development, manufacturing and commercialization of nanotechnology worldwide. For more information, go to: http://www.nanotechnologyworld.org.