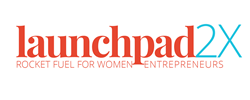 "I have increased my revenue by 400% year-over-year and I'm on track to do that again in 2018. I could not be more grateful for the resources and education, as well as the extremely valuable network that LaunchPad2X has given to me," Futurus founder and CEO and LP2X 2016 graduate Annie Eaton
ATLANTA (PRWEB) July 31, 2018
Atlanta-based Launchpad2X (LP2X) announces its final call for applicants to its 2018 highly successful entrepreneurship program designed to support women business owners. Women founders and CEOs will learn how to accelerate growth through intensive entrepreneurial workshops, mentor matching, and experiential exercises. The program also addresses a confidence gap that often exists with women entrepreneurs by presenting the facts about how women perceive their competence and how they actually outperform those perceptions.
"Having a network of other highly motivated and supportive women CEOs is a gamechanger," says Futurus founder and CEO and LP2X 2016 graduate Annie Eaton. "Looking at my company's history, I can directly track the 'before LaunchPad2X' and the 'after LaunchPad2X' point. While I was pushing along with my business, it lacked the structure it needed, and LP2X was the jump start to kick it into high gear and grow. Since the program, I have grown from two employees (founders) to a full-time staff of 10. I have increased my revenue by 400 percent year-over-year and I'm on track to do that again in 2018. I could not be more grateful for the resources and education, as well as the extremely valuable network that LaunchPad2X has given to me."
"We call it 'rocket fuel for women-owned businesses' because so many of our graduates 'take off' following their Launchpad2X experience," says LP2X Chairman and Founder Bernie Dixon. "We have over 120 graduates and 90 percent are still in business. The average growth rate is 200 percent a year and we've had six successful investment exits. This program works, starting with the intense three-day boot camp that challenges women to rise up to their potential, and then monthly master classes and networking among the alumni and advisors."
Workshops at the boot camp are designed and delivered by subject matter experts who are passionate about helping women-led organizations gain critical business knowledge, boost revenue, and manage risk. Participants interact with local business leaders, venture capitalists, angel investors, and successful entrepreneurs who've built some of Atlanta's most recognized brands. The application deadline is August 30, 2018. Twenty-five companies will be selected for the 2018 session, which takes place October 1 - 4.
Although women outpace men in launching companies, studies show that women-led and women-owned businesses grow slower and remain smaller than those of their male counterparts.
"Women have access to a scant few percent of the growth capital available, and that has to change," says Dixon. "It shouldn't be this hard for women to access what they need and deserve to grow their businesses. In fact, the current situation isn't just destructive to women. It is destructive to our economy. We need the creativity and drive from women founders to grow impactful solutions and provide jobs. I am inspired by the women I have met through this program and I am passionate about arming them with the resources, confidence, and C-level business skills they need to grow and prosper."
About the Launchpad2X 2018 Boot Camp
The three-day LP2X program covers a range of developmental courses addressing business strategy, financial acumen, creating and managing a board of directors, how to deal with potential investors, and adopting a CEO-leadership style. The program concludes with an individual coaching and advisory session designed to provide one-on-one guidance and address company-specific issues. Following graduation, alumni are eligible for LP2X membership where they will have access to monthly workshops and a vast network of supportive professionals. To apply, fill out the digital application at https://www.launchpad2x.com/3-day-core-program.
For questions, more information, or details about corporate sponsorship please email holly(at)launchpad2X(dot)com.
About Launchpad2X
Launchpad2X is an entrepreneurial ecosystem in Atlanta supporting women who are founders/leaders/majority-owners of their startup and emerging businesses. Launchpad2X works with the Atlanta business community to provide members with mentorship, ongoing education, and a supportive network that builds the confidence and skills needed to grow their companies. More than 120 women-led companies have graduated from Launchpad2x since 2012. For more information visit: http://www.launchpad2x.com/.