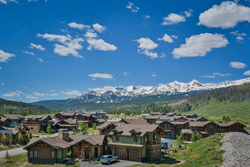 Luxury mountain real estate is consistently in demand. As a result, we've witnessed very strong sales.
BRECKENRIDGE, Colo. (PRWEB) January 10, 2020
Construction is nearing completion at The Shores at Breckenridge – a luxury community on the banks of Colorado's Blue River, which has experienced robust demand for its paired and single-family homes.
The final riverfront duplex in the community has been completed. These units represent the final opportunity to acquire a newly constructed home so close to the Blue River, a rare find in Summit County. Additionally, the last three single-family homes in The Shores are nearing completion in February.
Sales have remained strong since construction began on the 10-acre resort community in 2014.
"Luxury mountain real estate is consistently in demand. As a result, we've witnessed very strong sales," says Noah Hahn, managing partner of Meriwether Companies. "We are confident these last few remaining homes will be snapped up quickly since residential and vacation homebuyers are very aware of the lack of new homes in Summit County."
Each home at The Shores features open-concept floor plans, vaulted ceilings and large windows offering views of the surrounding protected open space, mountains and river, as well as clean and transitional finishes including natural stone accents, oak flooring and knotty alder shaker-style cabinetry. State-of-the-art kitchens are outfitted with slab granite countertops and high-end, built-in Bosch® appliances and a dual-zone wine refrigerator.
Surrounded by nature, the community's location offers ample opportunity for outdoor recreation – from fly-fishing to mountain biking to hiking on the nearby Colorado Trail. In addition, the community is just a 10-minute drive from Breckenridge Ski Resort, which boasts North America's highest ski lift, a world-class ski school and five peaks spanning more than 2,900 acres. The Shores is across the street from the Jack Nicklaus-designed Breckenridge Golf Club and a half mile to the historic town of Breckenridge with art galleries, dining, boutiques and more.
The community, with 56 detached and paired residences, has experienced steady sales since Boulder-based Meriwether Companies and San Diego's Pathfinder Partners teamed up to acquire the project, entitled for 40 residences.
For more information, visit http://www.shoresbreckenridge.com/.
About Meriwether Companies
Meriwether Companies is a Boulder-based real estate investment and development firm focusing on luxury hospitality and residential projects in resort and urban markets. Founded in 2010, Meriwether's partnership group is comprised of executives from highly regarded resort firms with over $2 billion of transactional experience as principals. Meriwether is actively developing commercial, residential, resort and hospitality assets across the U.S., including Telluride, Steamboat Springs, Breckenridge, and Boulder, Colorado; and Los Angeles, Palm Springs, and Squaw Valley, California. For more information, visit http://www.meriwetherco.com or contact Noah Hahn at Nhahn@meriwetherco.com or 310-487-5335.
About Pathfinder Partners
Headquartered in San Diego, Pathfinder Partners was founded by Lorne Polger and Mitch Siegler in 2006 to invest in opportunistic and value-add real estate. Since inception, Pathfinder has acquired or sold $1 billion in assets. In addition to seeking opportunities to add value by providing liquidity to selling financial institutions, liquidating funds and fatigued owners, Pathfinder also seeks to maximize value through property enhancements, improvements in operations and marketing, property repositioning and other strategies. For more information, visit http://www.pathfinderfunds.com or contact Mitch Siegler at msiegler@pathfinderfunds.com or 858-875-4455.
About Slifer Smith & Frampton
As a leader in Colorado real estate, Slifer Smith & Frampton Real Estate (SSFRE) knows how to LIVE LOCAL and has helped others do so since 1962. With four Summit County offices and accounting for approximately 15 percent of total annual sales in Summit County, SSFRE knows what it means to be a thriving, local company. Whether you are looking to buy or sell in the resort or mountain real estate market, SSFRE is the go-to firm. SSFRE has formed partnerships and affiliations with Luxury Portfolio International and Leading Real Estate Companies of the World, boosting its global presences and solidifying its position as one of the most prestigious and knowledgeable real estate companies in the country. For more information visit summitgetaways.com or contact Jeff Moore at jmoore@shoresbreckenridge.com or 970-390-2269.