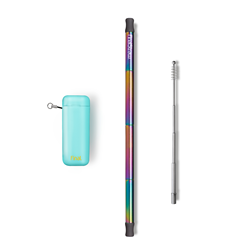 SEATTLE (PRWEB) October 05, 2020
Final, designer and manufacturer of FinalStraw, announced the issuance of a General Exclusion Order (GEO) for its patented FinalStraw, on September 22, 2020 by the International Trade Commission (ITC), pertaining to certain foldable reusable drinking straws and components and accessories thereof. The GEO bars the importation, into the United States, of products that infringe U.S. Patent No. 10,123,641, for the life of the patent.
Final filed its complaint with the ITC last November, naming 17 respondents, including foreign manufacturers, importers, and distributors. In obtaining a General Exclusion Order, the issuance bars the importation of infringing products by any company, not just those named in the complaint.
"It's Final's mission to create products that reduce waste," said Emma Rose Cohen, CEO and Founder of Final. "The knockoffs were not only infringing on our patent, they are also extremely poor quality and break after a few uses which completely defeats the purpose of reusables. The GEO is a win for both the company and the environment."
Final launched FinalStraw in April 2018. Almost immediately, the U.S. market was flooded with knockoff products. The company's brand protection team has successfully requested the removal of more than 16,000 fraudulent product listings. They are pleased with ITC's findings, as it is not reasonable to sue each infringer individually, both domestically and internationally.
Final continues to vigilantly enforce its intellectual property rights through all enforcement means available.
About Final
The Final Co. LLC, DBA Final, launched FinalStraw, the world's first reusable, collapsible straw, on Kickstarter in 2018. Final is on a mission to create reusable, responsibly made products that reduce the need for single-use products, empower individuals to change their buying habits, and raise awareness about the impacts of our everyday decisions.
©2020 The Final Co. LLC. All rights reserved. Final's products and all Final logos, trademarks, and images are the property of The Final Co. LLC.