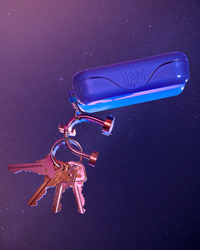 SANTA FE, N.M. (PRWEB) July 14, 2020
Final, the creator of FinalStraw, the straw that raised nearly $2 million on Kickstarter, is excited to announce the launch of its long-awaited BiggieStraw—a portable straw designed with boba tea and smoothies in mind.
"Boba lovers have been writing to us since FinalStraw hit the market asking for a version that would be good for boba or bubble tea," said Emma Rose Cohen, CEO & Founder of Final. "We want to make sustainability easy, so we listen to our customers and react accordingly."
Starting on July 14, customers with great expectations will be able to enjoy a little more smoothie, boba, or milkshake all while living sustainably. The straw folds up to fit in a convenient carrying case along with a cleaning squeegee. BiggieStraw is available for purchase for $12.95 on Final's website in five fun colors.
Every BiggieStraw purchase empowers customers to reduce their plastic pollution one straw at a time. This convenient reusable straw makes it easy to say no to single-use plastic. As a member of 1% for the Planet, Final donates a portion of its sales to environmental nonprofits every year.
BiggieStraw is kicking off a big summer for Final. FinalFork and FinalSpork are also slated to launch Summer 2020. Stay tuned!
About Final:
The Final Co. LLC, DBA Final, launched FinalStraw, the world's first reusable, collapsible straw, on Kickstarter in 2018. Final is on a mission to create reusable, responsibly made products that reduce the need for single-use products, empower individuals to change their buying habits, and raise awareness about the impacts of our everyday decisions.
©2020 The Final Co. LLC. All rights reserved. Final's products and all Final logos, trademarks, and images are the property of The Final Co. LLC.