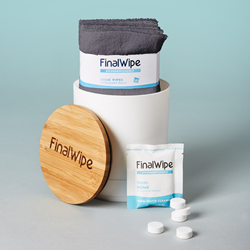 SEATTLE (PRWEB) March 09, 2021
Final, the company behind FinalStraw and FinalCutlery—collapsible reusable straws and utensils that are easy to take on-the-go—is thrilled to announce the expansion of their Foreverables collection. FinalWipe Home and FinalWipe Travel are their latest approach to wiping out waste; they provide a modern and clever resolution to single-use paper products.
"Our mission has always been to make living sustainably easy—waste is just a design flaw," said Emma Rose Cohen, CEO and Founder of Final. "With the pandemic, we've seen a significant uptick in single-use waste, particularly when it comes to wipes as people have increased their cleaning protocols. With the launch of FinalWipe, we hope to provide homes and businesses an easy and affordable solution that they can use anywhere while simultaneously helping our planet."
More than 254 million tons of paper towels and cleaning wipes are discarded globally every year. FinalWipe and its accompanying CleanTab tablets provide a sustainable alternative to cleaning solutions that are traditionally sold in plastic bottles. In addition to encouraging individuals to practice sustainability while cleaning, FinalWipe helps avoid the release of tiny microplastics, found in paper products, from entering the environment.
How does FinalWipe work? FinalWipe's reusable cotton wipes can be used wet or dry. The FinalWipe Home containers are airtight: drop a CleanTab into the container, add water, combine the wipes and they'll be ready to wipe down any surface. FinalWipe Home is made from post-consumer recycled plastic and bamboo and has a hidden drawer to store CleanTabs. FinalWipe Travel is the perfect on-the-go option to cleaning everything outside the home: a car interior, a shopping cart, your phone, plane seat, you name it! Simply spray the cleaning solution onto a surface and wipe it down.
The CleanTab tablets dissolve when added to water which creates an eco-friendly, multipurpose and toxic-free cleaning solution. It's ideal for all general clean-up purposes. The ammonia-free and bleach-free solution can be used on a variety of surfaces to remove dirt and grime safely.
Available exclusively at Final.co beginning today, FinalWipe Home is $39.95 and FinalWipe Travel is $24.95.
ABOUT FINAL
The Final Co. LLC, DBA Final, launched FinalStraw, the world's first reusable, collapsible straw, on Kickstarter in 2018. Final is on a mission to create reusable, responsibly made products that reduce the need for single-use products, empower individuals to change their buying habits, and raise awareness about the impacts of our everyday decisions.
©2021 The Final Co. LLC. All rights reserved. Final's products and all Final logos, trademarks, and images are the property of The Final Co. LLC.
###