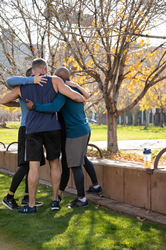 Being part of a supportive community is critical to people's success during their wellbeing journeys, and that's why our customers continue to embrace the IsaBody Challenge. - Isagenix Chief Executive Officer Sharron Walsh
GILBERT, Ariz. (PRWEB) December 17, 2020
Isagenix International, a global wellbeing company providing effective products and a supportive community, has announced the final five U.S. finalists competing in its annual total-body transformation program, the IsaBody Challenge®. The third Judging Period's finalists are Jennifer Slavinsky of Conway, Pennsylvania; Joe Fettig of St. Louis Park, Minnesota; John Hastings of East Troy, Wisconsin; Stacey Baker of Bend, Oregon; and Susan Kinman of Van Buren, Arkansas.
A total of 15 finalists will receive $3,000 each. Each finalist will be introduced at the event, where the IsaBody® Grand Prize Winner and Runner-Up will be announced. The IsaBody Challenge and New Year Kick Off are both hosted by Isagenix.
The third round of five finalists was selected out of thousands of people across the United States who completed the IsaBody Challenge during the final Judging Period. All 15 finalists are competing for a chance to win the grand prize of $25,000 or the runner-up prize of $10,000.
"Being part of a supportive community is critical to people's success during their wellbeing journeys, and that's why our customers continue to embrace the IsaBody Challenge," said Isagenix Chief Executive Officer Sharron Walsh. "They appreciate how the program's community members hold one another accountable and support each other. Isagenix congratulates this latest round of finalists for all they've achieved as part of the IsaBody — and Isagenix — community."
Meet the Finalists
Jennifer Slavinsky, Pennsylvania
Age: 36
Total Weight Loss: 69 pounds*
Challenges Completed: 5
Turning 36 isn't normally a significant birthday milestone, but it was for Jennifer. Her mom passed away at the age of 36. Jennifer said her mother was unhealthy mentally and physically and didn't have a healthy outlet for coping. While Jennifer initially dreaded the day she too would turn 36, she eventually decided it was time to stop letting it weigh her down and instead make 36 her healthiest birthday yet.
"I couldn't think of a better way to honor my mother," she said.
Joe Fettig, Minnesota
Age: 36
Total Weight Gain: 6 pounds of lean muscle*
Challenges Completed: 4
Joe is proof that persistence pays off. When he was first introduced to Isagenix, he said no. But his team leader didn't give up, and it made all the difference to Joe, who was struggling emotionally and financially. He's grateful for what he's found at Isagenix and now shares the painful aspects of his story to help others who are struggling like he had been.
"The IsaBody Challenge has been the perfect family inside my home of Isagenix where I can reveal myself for who I am, scars and all, and take off my mask, because one isn't needed when there is zero judgment," he said.
John Hastings, Wisconsin
Age: 45
Total Weight Loss: 123 pounds*
Challenges Completed: 7
John has faced his share of challenges during his wellbeing journey the past two years. He's lost and gained weight, and he's seen that behavior change is a long process.
As he describes it, "In the beginning, change resembles a mountain. Climbing it seems endless, but once you reach the top, you see it's all rolling hills from there on out. Even by making lifestyle changes, you'll still face ups and downs, but they're much easier to climb than the mountain in the beginning."
Stacey Baker, Oregon
Age: 33
Total Weight Loss: 45 pounds*
Challenges Completed: 7
Stacey spent most of her life thinking her body was failing her. Her weight made her an easy target for bullies, her metabolism wasn't as fast as her siblings', and she quit a sport she loved because spandex shorts made her self-conscious. After finding Isagenix, she's not only lost weight but also gained fitness, shaving nearly four minutes off her mile time.
Stacey said, "I'll never feel defeated again because I have an entire community supporting me and cheering me on. Most importantly, I will never feel worthless again because everyone is worthy of this journey for better health."
Susan Kinman, Arkansas
Age: 42
Total Weight Loss: 57 pounds*
Challenges Completed: 4
In July 2019, Susan started her Isagenix journey not knowing the profound impact it would have on her. She originally set out to lose weight, but what she gained ended up being worth so much more. It wasn't just about the weight loss; it was about finally being able to consistently maintain a healthy weight. She also discovered the energy and motivation to work out six days a week while working two jobs and running a home-based business.
"In the process, I've learned that the only limitations I have are the ones I place on myself," Susan said.
To see the finalists' before and progress photos, visit the Isagenix Newsroom. To learn more about Isagenix, visit the Newsroom, like the company on Facebook, and follow it on Twitter and Instagram.
*Weight loss, muscle gain, lifestyle, and other results depicted here reflect exceptional individual experiences of Isagenix customers and should not be construed as typical or average. Results vary with individual effort, body composition, eating patterns, time, exercise, and other factors, such as genetic and physiological makeup. A two-phase 2016 study published by researchers at Skidmore College showed an average weight loss of 24 pounds after 12 weeks. The study evaluated the use of Isagenix products in men and women for weight loss followed by weight maintenance. During the weight maintenance phase, the subjects who continued the calorie-controlled program using Isagenix products better maintained their weight loss in comparison to those who transitioned to a traditional diet after 52 weeks.
About the IsaBody Challenge
The IsaBody Challenge is a 16-week contest that rewards participants for their total-body and life transformations. Participants are judged on their before and progress photos as well as their personal essays describing their journeys. The contest looks for the most inspirational and motivational stories about how participants have made healthy body and life transformations. The IsaBody Challenge is open to all Isagenix customers and members over the age of 18 in markets where the company operates. For more information, visit the IsaBody Challenge page.
About Isagenix International
Established in 2002, Isagenix International believes that everyone deserves to experience a healthy, joyful, and abundant life. The global wellbeing company artfully crafts more than 175 effective products and offers a supportive community for its more than 550,000 customers worldwide. Isagenix shares its products through a network of independent distributors in 26 markets: the United States, Canada, Puerto Rico, Hong Kong, Australia, New Zealand, Taiwan, Mexico, the United Kingdom, Ireland, the Netherlands, Belgium, Spain, South Korea, Austria, Denmark, Finland, France, Germany, Italy, Japan, Norway, Poland, Portugal, Sweden, and Switzerland. The private family-owned company has its world headquarters in Gilbert, Arizona. For more information, visit Isagenix.com.