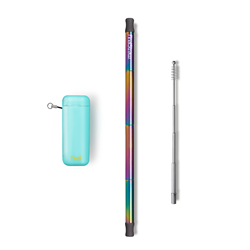 SANTA BARBARA, Calif. (PRWEB) November 18, 2019
Final, designer and manufacturer of FinalStraw, announced the institution of its patent infringement complaint by the International Trade Commission (ITC). Final is requesting the ITC to investigate and issue a general exclusion order (GEO), working to protect its flagship product from companies infringing upon its intellectual property rights. Final has named 17 respondents in its complaint, including foreign manufacturers, importers, and distributors.
Final's U.S. utility Patent No. 10,123,641 claims patented mechanisms for collapsing, cleaning, and storing of a reusable straw. Since its launch in April 2018, the innovative straw has wildly grown in popularity. As a result, knockoff products have flooded the U.S. market.
"The purpose of a FinalStraw is to reduce single-use plastic waste," said Emma Rose, CEO and Founder of Final. "Not only are knockoff straws infringing our intellectual property and degrading our brand, the knockoffs are defeating the entire mission of what we're trying to do as a company. They're cheap, break within minutes, and are made with little regard to the environment."
Final has a team dedicated to intellectual property enforcement and brand protection. To date more than 10,000 fraudulent product listings have been removed from various websites and online stores. Despite the regular enforcement efforts, there are still many more listings and products to tackle daily and it is not reasonable to sue each infringer individually, both domestically and internationally.
"We are very pleased that the ITC has agreed to investigate," said Kelly Frazier, who leads the intellectual property and brand protection efforts for Final. "Knockoffs are the name of the game these days and in an era of fast and direct online selling, circumvention of listing removals and seller information is extremely easy. With very few ways of efficiently stopping these infringing products, companies like Final must ask the ITC, and ultimately U.S. Customs and Border Protection, to fight the mass infiltration of knockoffs from abroad."
About Final:
The Final Co. LLC, DBA Final, launched FinalStraw, the world's first reusable, collapsible straw in 2018. Final is on a mission to create reusable, responsibly made products that reduce the need for single-use plastics, empower individuals to change their buying habits, and raise awareness about the impacts of our everyday decisions. Final is creating an entire line of Foreverables—convenient alternatives to single-use plastic. The next product the company plans to launch is FinalFork.
©2019 The Final Co. LLC. All rights reserved. FinalStraw and all Final logos, trademarks and symbols are the property of The Final Co. LLC.