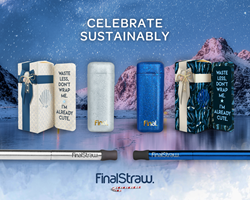 SANTA BARBARA, Calif. (PRWEB) November 26, 2019
FinalStraw, the award-winning collapsible, reusable straw, is excited to announce the launch of its limited-edition holiday collection.
"We're excited to see the change in gift-giving trends as people gravitate toward more eco-friendly gift ideas," said Emma Rose, CEO and Founder of Final.
The limited-edition cases, available in two sparkly colors, Skinny Dip Blue and Ice Ice Baby White, are designed to hang from a keychain and make for a stylish stocking stuffer. At $29.95, the limited-edition holiday collection is priced for gifting to all and is only available on the company's website.
The really good news? It's a gift that is already wrapped for you! The holiday collection's packaging is cute as can be, so there's no need to put more paper under the tree! The design highlights Final's mission to eliminate single-use waste. Final packages all of its products with 100% recycled paper.
Since launching in April 2018, Final has prevented an estimated 70 million single-use straws from entering the environment. A proud member of 1% for the Planet, Final donates a portion of its sales to environmental nonprofits every year.
About Final:
The Final Co. LLC, DBA Final, launched FinalStraw, the world's first reusable, collapsible straw in 2018. Final is on a mission to create reusable, responsibly made products that reduce the need for single-use plastics, empower individuals to change their buying habits, and raise awareness about the impacts of our everyday decisions. Final is creating an entire line of Foreverables—convenient alternatives to single-use plastic. The next product the company plans to launch is FinalFork.
©2019 The Final Co. LLC. All rights reserved. FinalStraw and all Final logos, trademarks and symbols are the property of The Final Co. LLC.