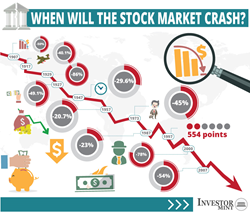 The results highlight the high stakes game of chicken that investors are playing by staying fully invested at this time
(PRWEB) August 22, 2017
A new research study conducted by leading financial publisher, Investormint, shows that the potential for a stock market crash is higher over the next 10 weeks than at any other time this decade if history is to be believed.
A team of research analysts examined the magnitude and duration of stock market crashes since 1900 and uncovered a mysterious pattern of major declines. "The results highlight the high stakes game of chicken that investors are playing by staying fully invested at this time", said George Windsor, Editor-In-Chief at Investormint.
The study highlights that major stock market crashes took place in seven of the ten decades last century. And the trend continued in the first decade of this century when the market peaked in 2007 before hitting its final lows in March of 2009.
Shockingly, the stock market has not escaped a major market crash in a single decade since 1900. For investors, who have enjoyed the longest bull run in history since 2009, this fact should come as a sobering reality that the next few years may be a lot more tumultuous than the past few.
In the years 1907, 1917, 1937, 1947, 1957, 1987 and 1997, the stock market began or continued major price declines. In many instances, pullbacks led to crashes of approximately 50%. An equivalent stock market crash today would wipe approximately 11,000 points off the Dow Jones Industrial Average and 3,150 points off the NASDAQ.
Perhaps even more disconcerting for those fully invested and long the market is how many of those crashes continued or began in the month of October. From the Banker's Panic in 1907 through to the 2007 stock market peak, October has featured no less than seven times as a month of gloom and doom.
Although history doesn't always repeat, it often does rhyme in the stock markets, and so the takeaway for fully invested individuals is clear: the next 10 weeks of this year is historically the period of greatest weakness in this entire decade.