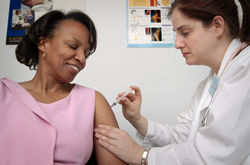 In no uncertain terms, the ability for a hospital to engage financially with their patients will ultimately be just as important as their ability to engage clinically - Kevin Fleming, CEO, Loyale Healthcare
LAFAYETTE, Calif. (PRWEB) July 29, 2020
Across the industry, hospitals have experienced alarming damage to their financial health because of the COVID-19 crisis. According to analysis published recently by Kaufman Hall titled, "The Effect of COVID-19 on Hospital Financial Health", before the pandemic the median operating margin for hospitals in America was a "very modest 3.5%" with many hospitals operating at negative margins.
The report goes on to point out that, "When the COVID-19 pandemic emerged, hospitals had to stop all but the most urgent non-COVID care. The result was a dramatic slowdown in volume of patients and in revenue, while expenses remained high." This is borne out by the experience of HCA Healthcare, one of the largest for-profit healthcare systems in the country. HCA employs Loyale Patient Financial Manager™ as its patient financial engagement platform enterprise-wide.
During its second quarter earnings call for 2020, executives at HCA reported that revenues declined $1.5 billion (13.8%) compared to the same period last year. The worst month of the quarter was April, which showed a decline in patient admissions of 28%. With sequential improvement in admissions for the remainder of the period, admissions for the entire quarter were down 12.8%.
However, in what may be the exception that proves the industry's rule, HCA Healthcare reported strong overall financial performance for the second quarter of 2020. Like many healthcare providers across the country, HCA benefited financially from CARES Act stimulus payments, pointing out that for the quarter $822 million had been received to help offset the reduced revenue and higher costs associated with the pandemic. As a result of HCA's vigorous cost cutting efforts (down 11%), increases in admissions and care acuity and federal payments, HCA reported diluted earnings of $3.16 per share, up 40% compared to last year.
Significantly, HCA executives and the authors of the above-mentioned Kaufman Hall analysis continue to be uncertain about the future. The analyst report posits two broad scenarios for the COVID-19 crisis. The first, more optimistic scenario assumes a slow but steady decrease in COVID-19 cases. The second, less optimistic scenario anticipates periodic surges in COVID-19 cases. These two scenarios were given a 40 percent and 60 percent weighting respectively, but the recent surge in cases suggests conclusively that the latter is indeed coming to pass. This scenario, predictably, brings with it much more troublesome financial probabilities.
According to the report, "Across the industry, COVID-19 is expected to drive median hospital margins from positive to negative." Noting that, "Funding from the CARES Act…is mitigating the impact to a certain degree. Median margins are forecast to drop to -3 percent in the second quarter of 2020; however, those margins would have been -15 percent without CARES Act funding." Kaufman Hall's forecast shows that, "without further government support, margins could sink to -7 percent in the second half of 2020…an unsustainable level for America's hospitals." The range, depending on the longer-term severity of the pandemic, calls for median margins of -1 percent to -11 percent, with half of America's hospitals operating at negative margins.
In summary, the financial condition of America's hospitals in the wake of the COVID-19 public health crisis is poor and the future uncertain. HCA Healthcare CEO, Sam Hazen acknowledged that, "we believe it is too early for us to make any conclusive statements about the future or provide any guidance for the rest of the year," and went on to point out the many headwinds facing HCA and the rest of the industry. "As we manage the company through these remarkable times, we are mindful of our mission as well as the many uncertainties that remain with respect to the broader recovery of the economy, uninsured levels, government regulations, state budgets and the resurgence and duration of COVID-19."
How Healthcare Will Rebound from the COVID-19 Crisis
For hospitals in the United States, financial recovery and longer-term success will depend on the successful execution of strategies (like HCA's) to reduce operating costs, improve efficiencies, sustain high-quality clinical care and respond to the rapidly changing expectations of consumers - their patients. Post-COVID, patients will hold the key to provider success in an expanding universe of care providers. Innovation stimulated by the crisis has already forged the path forward in the clinical dimension of care. Now the rest of the patient experience must follow - especially the patient financial experience. Fortunately, in our experience these adaptations can be completed in just months with, immediate payback in cost reductions, along with the added benefit of increased patient satisfaction.
Most of the innovation we've witnessed during the COVID-19 crisis has focused on the clinical dimension of the patient's experience. In an article published this spring, following the peak (at the time) of the pandemic crisis in the U.S., titled, "How Will COVID-19 Change Patient Experience, Healthcare Delivery?", author Sara Heath of PatientEngagementHIT, shared the observations of Thomas Lee, MD, a primary care physician at Brigham & Women's Hospital in Boston and the chief medical officer for Press Ganey. Dr. Lee is among the many clinicians who, despite the dire circumstances, are witnessing "an evolution in the patient experience that will redefine healthcare in the future."
When the pandemic was declared a national emergency, a frenzy of healthcare industry activity ensued, much of it focused on supply chain matters related to testing and personal protective equipment (PPE). Just as significant has been an explosion in the use of telehealth and other digital health services, and the rapidly accelerated innovation of the health IT field, which, according to the article, included "health information exchanges and Electronic Healthcare Record (EHR) vendors promising better data interoperability." According to Dr. Lee, "The pace of change has been staggering and challenging, exactly what the doctor ordered."
Dr. Lee envisions several lasting outcomes for the healthcare industry as a result of the COVID-19 experience. He has staunchly advocated for an adjusted healthcare delivery model based on patient segmentation. "If there's ever a situation where one size does not fit all, it is this." From a clinical perspective, that may mean sending non-COVID patients to other facilities or departments. More generally, it allows "clinicians to more specifically zero in on the needs of different types of patients."
The same principle must apply across the entire patient experience. At the conclusion of his interview, Dr. Lee said that, "now healthcare is reframing what it means to take good care of people. In the time of coronavirus, that means telemedicine to keep healthy patients out of the office or foregoing a blood test or x-ray that isn't absolutely essential, because moving a patient means exposing more people." He went on to say that, "Care is getting better because of this. And it's because we have been thinking about nothing except meeting people's needs. And then the payment system will evolve to support good care."
Dr. Lee's concluding statement about the payment system is too important to overlook, because it has a meaningful impact on patient decisions about their care and provider performance. We and others have written extensively on the financial barriers to care for many Americans. These barriers existed for years before the COVID-19 crisis, and the crisis has made a desperate situation worse. Patients now represent a growing portion of hospital revenue, whether that revenue comes in the form of out-of-pocket payments for high deductibles, copayments and/or by directing their insurer's payment to the in- or out-of- network provider they have chosen. Regrettably, millions of Americans have now lost their employer-sponsored healthcare coverage due to COVID-19 related job losses. This critical source of hospital revenue is more at risk now than ever before.
In no uncertain terms, the ability for a hospital to engage financially with their patients will ultimately be just as important as their ability to engage clinically. Here, as in the clinical dimension, digitally powered solutions and patient segmentation will matter. Just as people need care that's suited to their personal circumstances, they also need administrative and financial solutions that encourage them to seek, and pay for, their care without the anxiety associated with affording it.
In the clinical dimension of care, we've seen that telehealth and the rapid improvement of interoperability enabled by healthcare exchanges and EHR companies have enabled millions of Americans to access care while improving their experiences. These digital capabilities, by their very structure, deliver hospitals the reduced costs and improved efficiencies they'll need. But to recover financially from the COVID-19 crisis and achieve long-term success, the same digital strategies must be widened to include the patient financial experience. In the end, we believe healthcare's post-Covid-19 new normal will be a better place - for hospitals and for the people they care for. We at Loyale are privileged to play a part.
Kevin Fleming is the CEO of Loyale Healthcare.
About Loyale Healthcare
Loyale Patient Financial Manager™ is a comprehensive patient financial engagement technology platform leveraging a suite of configurable solution components including predictive analytics, intelligent workflows, multiple patient financing vehicles, communications, payments, digital front doors and other key capabilities.
Loyale Healthcare is committed to a mission of turning patient responsibility into lasting loyalty for its healthcare provider customers. Based in Lafayette, California, Loyale and its leadership team bring 27 years of expertise delivering leading financial engagement solutions for complex business environments. Loyale currently serves approximately 12,000 healthcare providers across 48 states. Loyale is proud to have an enterprise-level strategic partnership with Parallon which includes the deployment of Loyale's industry leading technology at all HCA hospitals and Physician Groups.