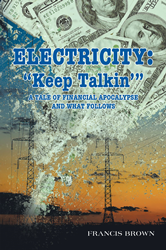 "My hope is to enlighten readers on the fragility of the money system and educate them on how very thin the veneer of civilization is, as well as entertain them with a post-apocalyptic tale."
LINCOLNTON, N.C. (PRWEB) September 13, 2021
No form of paper currency has ever survived a full credit cycle of about 70 years. In "Electricity: "Keep Talkin:'" A tale of Financial Apocalypse and What Follows" by Francis Brown, the U.S. dollar is no different. When it does finally collapse— in the midst of debt, bailouts and the Federal Reserve printing money out of thin air— societal chaos will erupt. In his new fiction novel, Brown reveals the resulting turmoil following the fall of the U.S. dollar that leads to mayhem and the destruction of civilization as we know it. Brown utilizes his finance and government background to inform readers on the fragility of the money system through this financial apocalyptic tale.
Taking place in the Tidewaters of Virginia, the book follows a group of ordinary individuals and some military professionals as they seek new normalcy ushering in a return to tribalism. Although fiction, the plot represents strong foresight into how an economic collapse will occur and may already be underway. The novel pits good against evil and portrays that the line between them is indeed quite fine.
"When the weakening of economic structure starts, the people start to lose faith," said Brown. "Once the money goes, so does society, resulting in mayhem. We have seen civilizations go through this in the past, such as the Weimar Republic. My hope is to enlighten readers on the fragility of the money system and educate them on how very thin the veneer of civilization is, as well as entertain them with a post-apocalyptic tale."
Laced with romance, passion, intrigue and suspense, this apocalyptic account tells the story of everyday relatable people, but in a new world where laws, civilization and money have disintegrated.
"Electricity: "Keep Talkin:'" A tale of Financial Apocalypse and What Follows"
By Francis Brown
ISBN: 9781665513395 (softcover); 9781665513371 (hardcover); 9781665513388 (electronic)
Available at Amazon, Barnes & Noble and AuthorHouse
About the author
Francis Brown is a decorated military veteran with many years of experience both in and out of uniform in the Department of Defense. The author has multiple graduate degrees in economics and finance. His unique background of real-life experience and an innate and intricate understanding of the world of finance give Brown the ability to understand and explain the unraveling of the covenant between the government and its people: money, and the bedlam that results. Having seen the results of financial and governmental collapse in many other places around the world (the Soviet Union, Yugoslavia, Venezuela) and as a student of history (Germany post World War I, Zimbabwe), Brown is keenly aware of what awaits the most advanced and civilized society the world has known. He currently resides in Lincolnton, N.C.
General Inquiries:
LAVIDGE – Phoenix
Meghan Bowman
480-306-6597
mbowman@lavidge.com