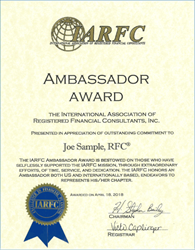 "Barry is a true leader and influencer. We are fortunate to have him as part of our network of professionals who go out in the financial community and support our vision." ...IARFC hairman & CEO H. Stephen Bailey, MRFC.
MIDDLETOWN, Ohio (PRWEB) January 24, 2019
The International Association of Registered Financial Consultants (IARFC) announces that Barry Dayley, MRFC, Executive Vice President of Money Concepts International has been given the Ambassador Award for 2019. The Ambassador Award will be given at the IARFC Annual Conference in Nashville, TN during the awards banquet on Thursday March 21.
This mission fosters and enhances the growth of the Association for the benefit of the members and the clients they serve by providing a continuing source of information, education and networking. The Association strengthens the financial services profession through adherence to and promotion of ethical behavior by their members and a focus on continuing professional education.
"Being acknowledged as an Ambassador for the IARFC is a greatly appreciated honor," commented MRFC Board Chairman Barry Dayley, MRFC, Executive Vice President of Money Concepts International. "The IARFC has made big strides by investing in accreditation for its consultants. They also encourage future financial professionals through the IARFC National Financial Plan Competition. It is easy to support a vision where the commitment is strong and the future is promising."
Dayley has fulfilled the position Chairman of the MRFC Certification Board and promotes the MRFC credential as an elite recognition for those consultants who meet the strict requirements. He is instrumental in his support of the IARFC National Financial Plan Association and is a consistent presenter at the IARFC conferences.
"Barry has been a motivator in getting the MRFC credential accredited," confirms IARFC Chairman and CEO H. Stephen Bailey, MRFC. "He is a true leader and influencer. We are fortunate to have him as part of our network of professionals who go out in the financial community and support our vision."
The criteria for the Ambassador Award are:

IARFC member for more than 1 year
Current "Ethics Approved" status or in good standing
Successfully supported the goals of the Association and has served with extraordinary efforts of time, service and dedication
For a complete list of presenters and topics, exhibitors and other events, visit the IARFC website. Registration for the conference is closing soon. Take advantage of discounted room rates at the trendy Gaylord Resort and Convention Center. "We look forward to honoring Barry at the Banquet," continues Bailey. "We wholeheartedly appreciate his contributions to our Association."