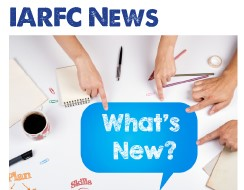 These members have been instrumental in finding content for our consultants who need to keep abreast of current financial trends...E-News Editor, Wendy M. Kennedy
MIDDLETOWN, Ohio (PRWEB) March 14, 2019
The Advisory Committee is made up of 5 volunteer IARFC members who provide theme ideas for the calendar year, give quarterly feedback via newsletter surveys, and monthly provide industry keywords to search for current news. "These members have been instrumental in finding content for our consultants who need to keep abreast of current financial trends," commented E-News editor Wendy M. Kennedy. "Their constant input keeps our publication fresh and relevant."
Those who serve on the ENews Advisory Committee are:

Lem Kornegay, III, RFC®, Paladin Financial Services Inc. – Glendale, CO;
Robert Laraia, RFC®, Northstar Wealth Partners LLC – West Hartford, CT;
Laura Mickels, RFC®, Wealth Retention Specialists – Huntsville, AL;
Mark Passacantando, RFC®, North Atlantic Business Advisors LLC, – West Hartford, CT;
Laura Stover, RFC®. LS Wealth Management LLC™ – Bryan, OH.
The Advisory Committee exemplifies the participation of volunteer members while expanding member relationships. Its mission is to update members on current matters, along with listing conferences with CE approved curriculum for the IARFC member.
"We are appreciative of the time and effort of these individuals who brainstorm this publication," elaborates IARFC Chairman and CEO H. Stephen Bailey, MRFC. "The benefit to members is the constant access of news that helps us do our job better – which is to secure our clients' financial future."
The IARFC Consultant E-News goes to IARFC members who are, practitioners, academicians, and decision makers in financial services, plus selected others who are non members, MRFC certificants, and candidates for the RFA®, RFC®, and MRFC.
The International Association of Registered Financial Consultants (IARFC), is a non-profit association established in 1984, that offers other designations – the Registered Financial Associate (RFA®), the Registered Financial Consultant (RFC®) and, the Master Registered Financial Consultant (MRFC) accredited credential (accredited by the NCCA) . The RFA®, RFC®. and MRFC are listed on FINRA.
To become a member of the IARFC and take advantage of all the member benefits visit http://www.iarfc.org.