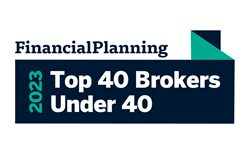 "In some ways, this year's rankings act as a cautionary tale. Several of the top brokers have switched firms during their careers, illustrating the risks organizations run when they don't invest in suitable retention strategies."
NEW YORK (PRWEB) February 02, 2023
Financial Planning, Arizent's essential resource for industry professionals in wealth management, published its list of Top 40 Brokers Under 40, an annual ranking that shines a spotlight on the sector's top young talent. This year's list provides deeper insight into how brokerage firms and wirehouses can retain these individuals in the midst of intense competition — or risk losing their future leaders to other firms if better opportunities arise.
The list includes a number of top young brokers who have moved from one firm to another, like this year's No. 1-ranked broker, Jenny Tsai, who began her career at Merrill but moved to rival wirehouse Morgan Stanley in 2015.
"In some ways, the rankings act as a cautionary tale," said Brian Wallheimer, editor-in-chief of Financial Planning. "Several of the top brokers have switched firms during their careers, illustrating the risks organizations run when they don't invest in suitable retention strategies."
A notable trend among this year's brokers is their ability to thrive, even during a market downturn. They have maintained strong client relationships while bringing in more assets, successfully generating revenue for their employers.
Merrill leads with the most brokers in the top 40 yet again. Additionally, despite the wide gender disparity in wealth management, this year's rankings again are topped by a woman broker and include three women in the top five. The top five brokers are:
Jenny Tsai: Morgan Stanley
Dominic Casaneuva: Merrill
Michael Shalhoup: Merrill
Krystal Julius: Merrill
Xi Qiao: UBS Wealth Management
The complete list of brokers and their stories, including what they value in an organization's culture, benefits, mentors and more, can be read here: https://www.financial-planning.com/list/these-are-the-top-40-brokers-under-40-in-2023
About Financial Planning
Financial Planning empowers financial advisors and wealth managers with essential analysis and insights into the ideas that are shaping their businesses. Through authoritative journalism, events, research and benchmarking, it helps firms drive their businesses and the industry forward, navigating the critical opportunities in practice management, wealthtech, investment strategies, tax and regulatory requirements. With a wealth management community of more than 600K, Financial Planning delivers unique content every day that connects leaders in person, in print and online every day.
About Arizent
Arizent is a business information company that advances professional communities by providing insights and analysis and convening industry leaders. The company uses deep industry expertise and a data-driven platform to deliver its services, which include subscriptions, marketing services, live events and access to Leaders, an executive forum. Arizent also connects business communities through leading financial services brands like American Banker, The Bond Buyer, Financial Planning and National Mortgage News, as well as professional services brands like Accounting Today, Employee Benefit News and Digital Insurance.