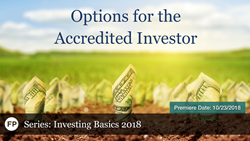 This panel of experts highlights some unique options for accredited investors.
CHICAGO (PRWEB) October 21, 2018
The Financial Poise INVESTING BASICS 2018 webinar series is intended for the investor who wants to reduce the "unknown unknowns" of investing.
First, a refresher on asset allocation and portfolio theory, i.e., how to array your investments to produce reliable returns over time and temper potential losses. Then two episodes on the "why?" of investing – the goals one pursues, such as financing family events, retirement, and the fate of your assets when you meet your Maker or Makers or fade to black or whatever. Tax and legal and investment professionals have their uses, but you get more from them when you know what questions to ask and what information to insist on receiving. The final two episodes turn topical, taking up special topics, including options and private securities (as well as public securities).
The fifth and final episode of the series, Options for the Accredited Investor, airs on October 23rd at 2:00 PM CST (Register Here) and features Moderator Christopher Cahill of Lowis & Gellen LLP. He is joined by Arthur T. Doglione of Alpha Fiduciary, Jonathan Friedland of Sugar Felsenthal Grais & Helsinger, and Yuen Yung of Casoro Capital.
Famed law firm founder Joseph Flom would say, "You can't go broke buying options." Why should that not be true for Accredited Investors investing in private securities? Well, the genius of the crowds of traders and analysts do make price discovery more reliable in public securities markets, and that dynamic is mainly absent among private securities. And on what platforms might such options be traded? How would this work?
The INVESTING BASICS 2018 webinar series is produced by Financial Poise.™ All episodes premiere live through West LegalEdCenter and then are made available on-demand.
As with every Financial Poise Webinar, each episode is delivered in Plain English understandable to investors, business owners, and executives without much background in these areas, yet is also valuable to attorneys, accountants, and other seasoned professionals. And, as with every Financial Poise Webinar, each episode brings you into engaging, sometimes humorous, conversations designed to entertain as it teaches. Each episode in the series is designed to be viewed independently of the other episodes, so that participants will enhance their knowledge of this area whether they attend one, some, or all episodes.
About Financial Poise™
Financial Poise™ has one mission: to provide reliable plain English business, financial and legal education to individual investors and private business owners. Financial Poise™ content is created by seasoned, respected experts who are invited to join our Faculty only after being recommended by current Faculty Members. Our editorial staff then works to make sure that all content is easily digestible. Financial Poise™ is a meritocracy; nobody can "buy" her way onto the Financial Poise Faculty.™ Start learning today at https://www.financialpoise.com/