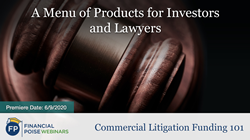 This webinar examines three funding products: case fundings, law firm loans, and portfolio fundings.
CHICAGO (PRWEB) May 11, 2020
Litigation funding is an increasingly-popular tool for attorneys and clients to share the risk and reward of litigation with third-party investors, and for investors to capitalize on the uncorrelated returns generated by legal-driven revenue. However, the term "litigation-" or "legal-" funding actually encompasses a handful of products, which vary based on borrower profile, stage and sector of litigation, use of proceeds, and ultimately, cost of capital and risk-reward profile. This webinar examines three funding products -- case fundings, law firm loans, and portfolio fundings -- and aims to inform attorneys on best solutions for their firms and clients, and provide an overview for institutional investors looking to allocate capital to litigations.
To learn more and register, click here.
The webinar will be available on-demand after its premiere. As with every Financial Poise Webinar, it will be an engaging and plain English conversation designed to entertain as it teaches.
About Financial Poise –
Financial Poise has one mission: to provide reliable plain English business, financial and legal education to investors, private business owners and executives, and their respective trusted advisors. Financial Poise content is created by seasoned, respected experts who are invited to join our Faculty only after being recommended by current Faculty Members. Our editorial staff then works to make sure all content is easily digestible. Financial Poise is a meritocracy; nobody can "buy" their way into the Financial Poise Faculty.
Start learning today at https://www.financialpoise.com/