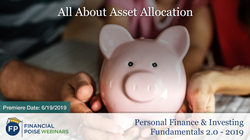 The particular asset allocation that works best for an investor at any given point will depend largely on the investor's time horizon and risk tolerate.
CHICAGO (PRWEB) June 15, 2019
By investing in a mix of different asset classes which tend to have investment returns that rise and fall under different market conditions (that is, which are non-correlated to each other) within a portfolio, an investor can protect against significant losses. In other words, market conditions that cause one asset category to do well often cause another asset category to have average or poor returns. By investing in more than one asset category, you'll reduce the risk that you'll lose money and your portfolio's overall investment returns will have a smoother ride.
To learn more, click here.
The webinar will be available on-demand after its premiere. As with every Financial Poise Webinar, it will be an engaging and plain English conversation designed to entertain as it teaches.
About Financial Poise
Financial Poise has one mission: to provide reliable plain English business, financial and legal education to investors, private business owners and executives, and their respective trusted advisors. Financial Poise content is created by seasoned, respected experts who are invited to join our Faculty only after being recommended by current Faculty Members. Our editorial staff then works to make sure all content is easily digestible. Financial Poise is a meritocracy; nobody can "buy" their way into the Financial Poise Faculty. Start learning today at https://www.financialpoise.com/.