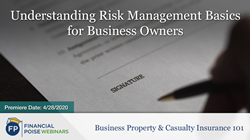 This expert panel embarks upon a discussion of key elements of risk management.
CHICAGO (PRWEB) April 22, 2020
About the Series: There's one type of contract that virtually every business in the United States enters into each and every year: their insurance contract(s). Despite being bound by and paying (sometimes handsomely) for these contracts, they're not always well understood by the business. Questions as fundamental as what risks should be insured (v. self-insured or mitigated via contract) and for how much or what losses will actually be covered and at what value are simply not commonly understood. This webinar series teaches business owners, executives and their trusted advisors what they should know about their property & casualty insurance so they understand how best to protect their assets and people in the most cost effective manner.
About the Episode: This expert panel embarks upon a discussion of key elements of risk management such as the 5-Steps of the Risk Management Process, Understanding 3 Main Types of Loss Exposures, Measuring Loss Exposures and 5 Types of Risk Control. We'll discuss Insurance Distribution, Wholesale v. Retail Insurers and Policies to give a business owner an understanding of what to look for in a carrier, a broker and how underwriters operate. We'll also review some general best practices for Safety and Loss Control applicable to many businesses. In light of current circumstances, we'll discuss safety measures for employees working from home.
To learn more and register, click here.
The webinar will be available on-demand after its premiere. As with every Financial Poise Webinar, it will be an engaging and plain English conversation designed to entertain as it teaches.
About Financial Poise –
Financial Poise has one mission: to provide reliable plain English business, financial and legal education to investors, private business owners and executives, and their respective trusted advisors. Financial Poise content is created by seasoned, respected experts who are invited to join our Faculty only after being recommended by current Faculty Members. Our editorial staff then works to make sure all content is easily digestible. Financial Poise is a meritocracy; nobody can "buy" their way into the Financial Poise Faculty. Start learning today at https://www.financialpoise.com/