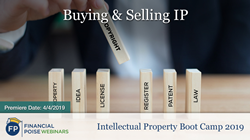 There are complex legal issues associated with IP transactions.
CHICAGO (PRWEB) April 01, 2019
Financial Poise™ Announces "Buying & Selling IP," a New Webinar Premiering April 4th at 1:00 PM CST through West LegalEdcenter™
This webinar is co-produced by West LegalEdCenter™ and part of the "Intellectual Property Boot Camp" series. It will feature Cristina Nolan (Financial Poise); Ada Nielsen (The Peregrine Maven Group); William Cory Spence (Spence, P.C.); Sanjay Prasad (Prasad IP, PC); and Eugene Goryunov (Kirkland & Ellis, LLP).
IP rights are an important class of intangible assets that can be assigned or licensed to generate revenue. Indeed, some companies do not make or sell products; their entire revenue is derived from the licensing of their patents. Suffice it to say, licensing revenue has become a significant source of value in the global intellectual property economy. This webinar will help you better understand the complex legal issues associated with IP transactions.
To learn more, click here.
The webinar will be available on-demand after its premiere. As with every Financial Poise Webinar, it will be an engaging and plain English conversation designed to entertain as it teaches.
About Financial Poise –
Financial Poise has one mission: to provide reliable plain English business, financial and legal education to investors, private business owners and executives, and their respective trusted advisors. Financial Poise content is created by seasoned, respected experts who are invited to join our Faculty only after being recommended by current Faculty Members. Our editorial staff then works to make sure all content is easily digestible. Financial Poise is a meritocracy; nobody can "buy" their way into the Financial Poise Faculty. Start learning today at https://www.financialpoise.com/