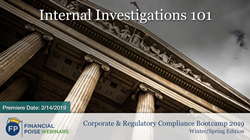 Let's discuss best practices for managing today's rising compliance issues.
CHICAGO (PRWEB) February 08, 2019
About the Series: Compliance issues are at the front of every manager's and fiduciary's mind these days as companies are regularly under investigation and scrutiny. We will cover corporate and regulatory compliance, corporate law compliance generally, securities law compliance and executive compensation.
About the Episode: We will survey recent compliance trends and discusses best practices regarding the attorney-client privilege, joint defense agreements, the use of experts, witness interviews, the consequences of self-disclosure and how to control the impact on the company.
To learn more, click here.
The webinar will be available on-demand after its premiere. As with every Financial Poise Webinar, it will be an engaging and plain English conversation designed to entertain as it teaches.
About Financial Poise –
Financial Poise has one mission: to provide reliable plain English business, financial and legal education to investors, private business owners and executives, and their respective trusted advisors. Financial Poise content is created by seasoned, respected experts who are invited to join our Faculty only after being recommended by current Faculty Members. Our editorial staff then works to make sure all content is easily digestible. Financial Poise is a meritocracy; nobody can "buy" their way into the Financial Poise Faculty. Start learning today at https://www.financialpoise.com/