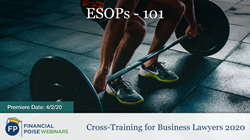 This webinar discusses the strategies involved in using an ESOP, as well as the benefits and consequences.
CHICAGO (PRWEB) March 13, 2020
About the Series: This series delves into cutting edge issues in dynamic fields to help the audience understand (i) the role of local land-use and zoning laws in property use and development; (ii) the reliance on credit insurance by businesses to protect against non-payment of commercial debt, (iii) the use, types and perceived benefits of employee stock ownership plans, and (iv) the complex maze employers and employees must navigate in the quest for immigrant or non-immigrant visa status for workers.
About the Episode: This webinar discusses the potential strategies involving, and benefits and consequences to, the sponsoring corporation and employees in implementation and use of an ESOP. It highlights these aspects of tax-qualified ESOPs used in the United States by comparisons to other forms of employee ownership in the U.S. and abroad.
To learn more and register, click here.
The webinar will be available on-demand after its premiere. As with every Financial Poise Webinar, it will be an engaging and plain English conversation designed to entertain as it teaches.
About Financial Poise –
Financial Poise has one mission: to provide reliable plain English business, financial and legal education to investors, private business owners and executives, and their respective trusted advisors. Financial Poise content is created by seasoned, respected experts who are invited to join our Faculty only after being recommended by current Faculty Members. Our editorial staff then works to make sure all content is easily digestible. Financial Poise is a meritocracy; nobody can "buy" their way into the Financial Poise Faculty. Start learning today at https://www.financialpoise.com/