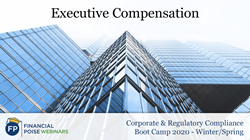 This webinar covers the many aspects of executive compensation, from compensation structures, to issues encountered, to regulation and best practices.
CHICAGO (PRWEB) May 25, 2020
Executive compensation continues its movement towards performance pay as the standard. Compensation structures and proxy disclosures are more and more complex. Investors and proxy advisors continue to increase influence on compensation issues. This webinar examines executive compensation, including equity-based compensation plans and executive employment and severance agreements. The importance of disclosure, alignment of risk, and metrics is also examined. Practical guidance on pay-for-performance and supplemental pay definitions is provided. The panelists discuss the effect of the Dodd-Frank Act on executive compensation, including SEC regulations. Exchange rules are compared to applicable federal law. Best practices regarding executive compensation committees and regulatory requirements for those committees are examined. Shareholder advisory groups promulgate executive compensation related advisory policies for their institutional shareholder clients annually and these policies are also discussed.
To learn more and register, click here.
The webinar will be available on-demand after its premiere. As with every Financial Poise Webinar, it will be an engaging and plain English conversation designed to entertain as it teaches.
About Financial Poise –
Financial Poise has one mission: to provide reliable plain English business, financial and legal education to investors, private business owners and executives, and their respective trusted advisors. Financial Poise content is created by seasoned, respected experts who are invited to join our Faculty only after being recommended by current Faculty Members. Our editorial staff then works to make sure all content is easily digestible. Financial Poise is a meritocracy; nobody can "buy" their way into the Financial Poise Faculty. Start learning today at https://www.financialpoise.com/