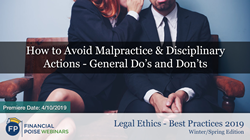 The first step in avoiding malpractice and disciplinary actions is to have a good understanding about it.
CHICAGO (PRWEB) March 14, 2019
This webinar presents basic practice pointers to avoid committing malpractice and disciplinary actions, and how to respond to claims of malpractice or unethical behavior. The panel also discusses the role that malpractice insurance plays in these situations and the ramifications of a malpractice judgment or disciplinary action. Model Rules discussed include: (a) those that govern the client-lawyer relationship (Rule 1.1 through 1.10; 1.13; and 1.16); (b) those that that speak to transactions with persons other than clients (Rule 4.1 through 4.4); Rules 5.1 through 5.5 (dealing with respective responsibilities of a partners/supervisory lawyers, subordinate lawyers, non-lawyer assistance, independence, unauthorized practice of law, and multijurisdictional practice of law); and communication, including advertising and solicitation of clients (Rules 7.1 through 7.5).
To learn more, click here.
The webinar will be available on-demand after its premiere. As with every Financial Poise Webinar, it will be an engaging and plain English conversation designed to entertain as it teaches.
About Financial Poise –
Financial Poise has one mission: to provide reliable plain English business, financial and legal education to investors, private business owners and executives, and their respective trusted advisors. Financial Poise content is created by seasoned, respected experts who are invited to join our Faculty only after being recommended by current Faculty Members. Our editorial staff then works to make sure all content is easily digestible. Financial Poise is a meritocracy; nobody can "buy" their way into the Financial Poise Faculty. Start learning today at https://www.financialpoise.com/