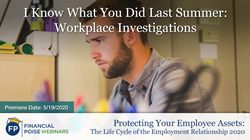 This webinar covers a host of questions regarding workplace investigations, explores the process, and provides guidance on how to handle the issues that arise.
CHICAGO (PRWEB) April 20, 2020
Now, more than ever, employers must be prepared to promptly and effectively respond to complaints of workplace harassment and/or discrimination. Often, that requires knowing when and how to conduct an internal investigation. Given the significance of the issues often at stake and the potential for a negative outcome (attorneys' fees, high dollar settlement, negative PR), learning on the fly is not a viable option when undertaking an investigation. This program covers a host of questions, including what sort of issues should be investigated, who should conduct the investigation, what steps should you take and in what order, who should be interviewed, what sort of documents should be created and how do you close out the investigation? It also explores the investigation process and provides guidance from a seasoned investigator as to how to handle the many issues that you will often confront during the course of an investigation.
To learn more and register, click here.
The webinar will be available on-demand after its premiere. As with every Financial Poise Webinar, it will be an engaging and plain English conversation designed to entertain as it teaches.
About Financial Poise –
Financial Poise has one mission: to provide reliable plain English business, financial and legal education to investors, private business owners and executives, and their respective trusted advisors. Financial Poise content is created by seasoned, respected experts who are invited to join our Faculty only after being recommended by current Faculty Members. Our editorial staff then works to make sure all content is easily digestible. Financial Poise is a meritocracy; nobody can "buy" their way into the Financial Poise Faculty. Start learning today at https://www.financialpoise.com/