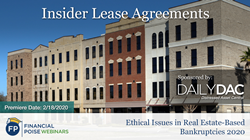 This webinar looks at insider lease agreements and examines the issues that may arise.
CHICAGO (PRWEB) January 31, 2020
It is a common play in real estate to create a separate operating entity to serve as a tenant and execute a lease between the owner of the property and himself. Typically, this happens in assets which serve as a real estate-based business, such as a retail property. The structure enables the operator to reduce the taxable income of the business and also provide a liability shield for the property owner. This arrangement can lead to some ethical issues should the property owner become distressed. Attorneys need to understand the set-up in order to know what is in bounds and what is outside the lines. This webinar looks at this leasing structure and examines the issues that may arise.
To learn more and register, click here.
The webinar will be available on-demand after its premiere. As with every Financial Poise Webinar, it will be an engaging and plain English conversation designed to entertain as it teaches.
About Financial Poise –
Financial Poise has one mission: to provide reliable plain English business, financial and legal education to investors, private business owners and executives, and their respective trusted advisors. Financial Poise content is created by seasoned, respected experts who are invited to join our Faculty only after being recommended by current Faculty Members. Our editorial staff then works to make sure all content is easily digestible. Financial Poise is a meritocracy; nobody can "buy" their way into the Financial Poise Faculty. Start learning today at https://www.financialpoise.com/