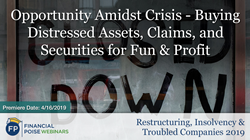 Regardless of the cause, failing or failed companies create a unique set of issues, risks, and even opportunities for all involved.
CHICAGO (PRWEB) April 05, 2019
Eddie Lampert bought Kmart out of bankruptcy. W.L. Ross made a fortune many times over buying steel and other companies out of bankruptcy. Hedge funds and other distressed debt traders buy and sell millions of dollars of distressed securities and bankruptcy claims every day. A number of private equity funds focus exclusively on buying distressed businesses, fixing, and selling them. And fortunes are made when real estate crashes by those who have the dry powder to swoop in and buy when others are forced to sell. This webinar explains how to loan to, or purchase the debt of, a company in order to acquire it (a strategy commonly called "loan to own"); how to learn about opportunities involving distressed companies; and tips and best practices for participating in bankruptcy, Article 9, and other sales of distressed businesses (including the concept of serving as the "stalking horse).
To learn more, click here.
The webinar will be available on-demand after its premiere. As with every Financial Poise Webinar, it will be an engaging and plain English conversation designed to entertain as it teaches.
About Financial Poise –
Financial Poise has one mission: to provide reliable plain English business, financial and legal education to investors, private business owners and executives, and their respective trusted advisors. Financial Poise content is created by seasoned, respected experts who are invited to join our Faculty only after being recommended by current Faculty Members. Our editorial staff then works to make sure all content is easily digestible. Financial Poise is a meritocracy; nobody can "buy" their way into the Financial Poise Faculty. Start learning today at https://www.financialpoise.com/