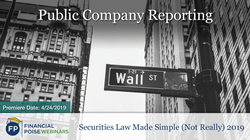 Once public, a company is subject to a continuously evolving landscape of disclosure and reporting requirements
CHICAGO (PRWEB) March 26, 2019
Recent disclosure developments have addressed everything from executive compensation to cybersecurity. In addition, the prevalence of social media has made it such that a company must now consider not only the nuances of what to disclose but also how to deliver that disclosure. Is your company tweeting its earnings reports; are you using your corporate Facebook page to make Regulation FD disclosures? In this webinar our expert panel provides a high-level overview of key public company reporting and disclosure requirements, including the latest developments brought about by the Dodd-Frank Act, JOBS Act, FAST Act and, most recently, the SEC's Disclosure Effectiveness Initiative, as well as provide tangible examples and practical advice on how to comply with the ever-changing means of delivering that disclosure.
To learn more, click here.
The webinar will be available on-demand after its premiere. As with every Financial Poise Webinar, it will be an engaging and plain English conversation designed to entertain as it teaches.
About Financial Poise –
Financial Poise has one mission: to provide reliable plain English business, financial and legal education to investors, private business owners and executives, and their respective trusted advisors. Financial Poise content is created by seasoned, respected experts who are invited to join our Faculty only after being recommended by current Faculty Members. Our editorial staff then works to make sure all content is easily digestible. Financial Poise is a meritocracy; nobody can "buy" their way into the Financial Poise Faculty. Start learning today at https://www.financialpoise.com/