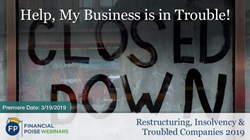 Companies fail all the time, for all sorts of reasons.
CHICAGO (PRWEB) March 05, 2019
About the Series: Regardless of the cause, failing or failed companies create a unique set of issues, risks, and even opportunities for all involved. This area of law and finance has become so specialized that no fewer than five national organizations exist to help those who specialize in the field to stay up to date on the latest developments, strategies, and tactics in the area.
About the Episode: When a business becomes financially troubled, lenders commonly lose confidence and then trust in the business, as communications tend to break down, deadlines are missed, and promises are broken. Small business owners commonly have issued personal guarantees, so business failure can often lead to personal financial stress. The good news is the business and business owner usually has some options, and even some leverage. This webinar explains what a business owner should- and should not- consider and do when dealing with financial trouble.
To learn more, click here.
The webinar will be available on-demand after its premiere. As with every Financial Poise Webinar, it will be an engaging and plain English conversation designed to entertain as it teaches.
About Financial Poise –
Financial Poise has one mission: to provide reliable plain English business, financial and legal education to investors, private business owners and executives, and their respective trusted advisors. Financial Poise content is created by seasoned, respected experts who are invited to join our Faculty only after being recommended by current Faculty Members. Our editorial staff then works to make sure all content is easily digestible. Financial Poise is a meritocracy; nobody can "buy" their way into the Financial Poise Faculty. Start learning today at https://www.financialpoise.com/