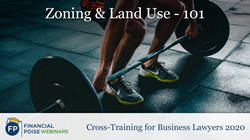 This webinar discusses legal issues relating to zoning and land use.
CHICAGO (PRWEB) July 18, 2020
Navigating the complexities of local land-use and zoning laws is critical to virtually any commercial real estate transaction as well as to the long-term flexibility and continued use and operation of a property. Zoning laws may limit the types of operations that can go on at the property. Legal issues relating to land use include easements (the right of access or other limited non-ownership interest in property) by government, utilities, and other entities, and issues relating to eminent domain. The ability of an owner or potential owner of property to obtain required permits and approvals from local planning boards, zoning boards, construction officials and other government/public entities is central to the interests of sellers, buyers, lenders, neighbors, and in some cases even competitors, all of which may take a position in the applicable proceedings. This webinar covers these topics.
To learn more and register, click here.
The webinar will be available on-demand after its premiere. As with every Financial Poise Webinar, it will be an engaging and plain English conversation designed to entertain as it teaches.
About Financial Poise
Financial Poise has one mission: to provide reliable plain English business, financial and legal education to investors, private business owners and executives, and their respective trusted advisors. Financial Poise content is created by seasoned, respected experts who are invited to join our Faculty only after being recommended by current Faculty Members. Our editorial staff then works to make sure all content is easily digestible. Financial Poise is a meritocracy; nobody can "buy" their way into the Financial Poise Faculty. Start learning today at https://www.financialpoise.com/.