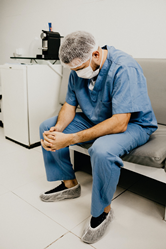 "In the months ahead, it is clear to us, our clients and our clients' patients that robust patient financial engagement will become more important than ever." - Kevin Fleming, CEO, Loyale Healthcare
LAFAYETTE, Calif. (PRWEB) April 22, 2020
For hospitals and health systems, one virtually universal component of the COVID-19 crisis is the financial crisis that has accompanied it. From smaller, regional and rural healthcare providers to large, multi-facility health systems, every organization is suffering financially. Whether it's the high cost of treating COVID-19 patients, unplanned expenses for hard-to-find equipment or the collapse in elective and other non-COVID treatments or more - hospitals' financial circumstances are growing increasingly distressing.
So far, government assistance is falling short of filling the financial gap. COVID-19-related financial losses are only partly offset by the $100 Billion set aside for hospitals as part of the CARES Act's $2 Trillion stimulus/recovery bill, which Kaiser Health News describes as "The COVID-10 Bailout That's Left Every Hospital Unhappy In Its Own Way."
The Kaiser article finds that "Nearly half of the country's rural hospitals were operating in the red before the pandemic hit and at least three have shuttered since it began." It also explores the government's decision to allocate funding based on available data about Medicare reimbursements, rather than, say, COVID-19 concentration. This alone has led to huge disparities in payments - with New Jersey receiving about $18,000 per COVID-19 patient and Minnesota, Nebraska and Montana each receiving over $300,000 per patient.
It also brings into focus the intense lobbying efforts being conducted by healthcare providers and their representative associations to secure government funding. But, the story observes, "whatever levers of influence they are pulling, hospitals big and small across the nation say they are shortchanged by the federal bailout as they face both a health crisis and an economic one."
Another small business stimulus bill is nearing approval, which according to a report from CNN includes an additional $75 Billion for hospitals and $25 Billion for testing. How equitably it will be administered has yet to be seen. Regardless, it has become irrefutably clear that healthcare providers are facing a financial crisis. And so far, the federal government's attempt to cure it is falling far short.
Despite Medicare's liberalization of some rules and increased reimbursements offer some relief, the economic impacts of the crisis are acute in healthcare revenue cycle, the systems and processes providers use to bill and collect from payers such as Medicare, insurance companies and patients themselves. According to an article published by the Healthcare Financial Management Association (HFMA), there are a number of real and potential threats. To prepare for and respond to these eventualities, author Matthew Hutt, CPA, CGMA, suggests that hospitals and other healthcare providers should;

Track COVID-19's impact on revenue cycle processes.
Be alert to billing and coding issues that may arise from additional use of telehealth and changes to Medicare regulations - Will the insurance company pay the full rate? Is further documentation needed? Are approvals needed? Does the shift to remote work by billing staff threaten to disrupt billing and collections? Is a business continuity plan in place? Have new Medicare regulations resulted in additional opportunities for billing or for accelerated or advance payments from Medicare?
Pay close attention to the effects of changes to patient financial responsibility - Many patients are incurring medical bills that are not covered by their health plans (not to mention their own financial difficulties stemming from layoffs and other crisis-related disruptions). Additionally, be sure billing and collections staff are familiar with some health plans' changes to policies on patient out-of-pocket.
This good advice is supported by another article from HealthcareFinance Associate Editor, Jeff Lagasse, who in addition to acknowledging the importance of coding, cites Dan Michelson, CEO of Strata Decision Technology's statement that the COVID-19 crisis will likely push hospitals and health systems into a rolling financial forecasting mode of doing business - now and in the future. According to Mr. Michelson, this approach is better suited to accommodating variabilities in expenses and revenues, and supporting strategies to leverage fixed assets and other resources to protect against a similar financial crisis in the event that other disruptions occur in the future.
Early Planning for the Post COVID-19 Recovery
Even as states extend their stay-at-home policies, there are hopeful signs that COVID-19 infections and hospitalizations have begun to stabilize and retreat, and discussions are already well underway at the state and federal level for getting the United States on its long road to recovery. Despite recent protests against some states' restrictions, the majority of Americans continue to support social distancing policies. And, with the publication of the White House Guidelines for Opening Up American Again, it is evident that public health remains a top priority.
The guidelines' three-phased plan frames a progression of policy changes for individuals, employers and specific types of employers such as schools, assisted living facilities, large venues (movie theatres, sports venues) and healthcare providers offering elective procedures - many of which are really not "elective" at all, such as cardiology, etc. these much-looked-forward-to policy changes will open the door to critical provider revenue which has effectively been shut down since the crisis began. Texas, Oklahoma and Alaska are among the first to begin again allowing elective surgeries, beginning as early as April 21 as long as certain restrictions continue to be observed.
Optimizing Patient-Pay Revenue in a Constrained Economic Environment
Faced with constrained cash flow and deteriorating balance sheets, revenue is critical for providers of all types, sizes and markets. In Kaufmann Hall's "Monitoring the Financial Implications of COVID-19 on Hospitals & Health Systems," the article's authors point out that "Right now (providers) are laser-focused on addressing immediate and anticipated patient and provider needs to save lives and combat the virus' spread. However, they will rapidly need to answer questions like these:
What would be the cash flow impact of losing 4-6 weeks (or more) of elective surgeries?
What impact might COVID-19 have on length of stay and CMI?
What portion of our workforce will be directly impacted and what contract labor costs will be incurred?
What is the potential magnitude of extraordinary inventory costs to manage supply shortages?
What is the impact to our investment income and balance sheet if market losses hold or increase for the year?
Do we have pension, swap or other liabilities that will be hurt by declining interest rates?"
To these, we would add "How much deferred treatment are we likely to realize (as the result of patients' improved health or death)"; "Are we prepared to deal with a long term COVID-19 patient population?" and "Will we have the financial resources to regain pre-crisis operating readiness and performance?"
When the financial implications of COVID-19 are better understood, the article goes on to say, providers will "need to use scenario planning to quantify the potential impacts of the virus and the longer-term effects of an anticipated recession, taking lessons both from current events and the Great Recession of 2007-2009." As part of this exercise, hospitals and health systems can then consider strategic, capital and operational adjustments to weather the storm more successfully.
Patients will be a big part of this picture. Over the last 5-10 years, most hospitals have seen their revenue sources shift significantly. Not long ago, public and private insurers (payers) were responsible for most of the cost of care. And while federal and state governments are still the largest single source of provider revenue through programs like Medicare and Medicaid, today the second largest source of operating income are patients - Patients who were already struggling to meet their financial obligations before the crisis began - and whose financial circumstances have worsened considerably since.
Among the strategic next steps in the Kauffman Hall article, healthcare providers are encouraged to "evaluate near-term performance improvement opportunities to address budget gaps." Our own experience working with some of the nation's largest healthcare providers suggests that optimizing patient financial engagement can lead to significant performance improvement - by reducing costs, optimizing productivity and lifting patient-pay revenue.
The Loyale Patient Financial Manager™ platform does this by enabling providers to deliver a consumer experience designed to improve patient engagement through interactive online experiences that reduce staff work, encourage patient self-service and improve the probability of payment. The platform was modeled after successful digital consumer companies and incorporates the lessons of our own 30-years' experience influencing desirable consumer payment behavior. In the months ahead, it is clear to us, our clients and our clients' patients that robust patient financial engagement will become more important than ever.
Kevin Fleming is the CEO of Loyale Healthcare.
About Loyale
Loyale Patient Financial Manager™ is a comprehensive patient financial engagement technology platform leveraging a suite of configurable solution components including predictive analytics, intelligent workflows, multiple patient financing vehicles, communications, payments, digital front doors and other key capabilities.
Loyale Healthcare is committed to a mission of turning patient responsibility into lasting loyalty for its healthcare provider customers. Based in Lafayette, California, Loyale and its leadership team bring 27 years of expertise delivering leading financial engagement solutions for complex business environments. Loyale currently serves approximately 12,000 healthcare providers across 48 states. Loyale is proud to have an enterprise-level strategic partnership with Parallon which includes the deployment of Loyale's industry leading technology at all HCA hospitals and Physician Groups.