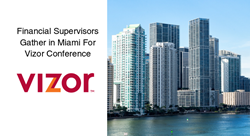 The conference was very informative, the customer sharing sessions provided a great learning opportunity.
DUBLIN (PRWEB) November 13, 2018
From October 23rd to 24th, 15 financial supervisors from 5 countries came together in Miami, Florida for Vizor Software's inaugural "Financial Supervision Workshop". Held at the Atton Brickell Hotel, the event provided a unique opportunity for delegates to participate in interactive sessions that addressed the challenges, needs and requirements of today's financial regulator and hear how peer organisations are solving their toughest supervisory challenges.
On Tuesday, October 23rd, Joanne Horgan, Vizor's Chief Innovation Officer, provided the opening presentation on the challenges supervisors face when implementing a risk-based supervision approach. She reviewed how existing prudential data collections can be leveraged to provide accurate and timely input, and how different financial supervisors are leveraging systems to deal with these needs.
Keynote speaker, Charles W. Littrell, Inspector of Banks and Trust Companies, Central Bank of The Bahamas, provided an address on the effectiveness of interventions supported by real world data.
The remainder of day one consisted of workshops on future regulatory developments and customer perspectives. The second day of the workshop was devoted to current Vizor customers and focused on training and support needs. Customer workshops were led by Ms. Horgan along with John Fallon, Head of Product Marketing, and Ben Kelly, Product Owner.
"The conference was very informative, the customer sharing sessions provide a great learning opportunity", commented Ocarye Morris, Bank of Jamaica. All financial supervisors polled cited networking with other Vizor Software clients as their favourite element of the event, followed closely by reviewing the Vizor product roadmap and additional features. "It was a great event, very well organised", commented a representative from a notable North American regulator.
Planned to be an annual event, the next Financial Supervision Workshop is scheduled for May 2019 in Dublin, Ireland. To be notified of future events, please send an email to events@vizosoftware.com
About Vizor
Vizor Software is the global leader in enterprise supervisory solutions for Financial Regulators. We help Financial Regulators protect and enhance the stability of the financial system. Vizor is trusted by Central Banks and Financial Regulators in more than 25 countries for the collection, validation and analysis of highly complex data from financial institutions. Vizor Software is an integrated data collection and supervisory system that is based on best-in-class supervisory models but flexible enough to deal with regulator specific needs. You can learn more at vizorsoftware.com or by following Vizor on Twitter, LinkedIn, Google+.