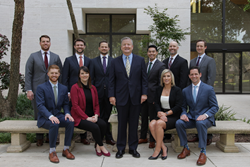 Let Us Simplify Your Financial Life
TYLER, Texas (PRWEB) February 25, 2020
The new office space resides in a four story, class A building conveniently located in South Tyler, across from Broadway Square Mall. Will Goodson, a Senior Financial Advisor with the firm, will be heading up the new Tyler office.
In business for over 30 years, Financial Synergies Wealth Advisors is an established wealth management firm specializing in comprehensive financial planning and investment management. Current assets under management top $900 Million.
"We are thrilled to open our first office outside of the Houston area. We felt that Tyler was a great fit for our expansion plans. It's in the heart of East Texas, an area known for strong-rooted communities and rich history. We couldn't be more excited," said Will Goodson.
As an independent, fee-only financial advisory firm, Financial Synergies has the freedom to develop financial plans and investment strategies for their clients without conflicts of interest. They receive no commissions and do not sell financial products. Their clients' best interests are what drive their recommendations.
Financial Synergies' primary goal is to simplify their clients' financial lives. Their Certified Financial Planner™ professionals and advisors combine investment management and holistic planning to deliver total wealth management solutions. Working closely with clients, they construct financial game plans and investment strategies to accomplish goals, and give those clients greater confidence in their futures.
In addition to their traditional wealth management services, they also offer two specialty programs:
Retirement Salary®
Pathway®
NEW TYLER, TX BRANCH OFFICE:
Financial Synergies Wealth Advisors, Inc.
100 Independence Pl., Suite 402,
Tyler, TX 75703
903-258-9600
http://www.financialadvisortylertx.com