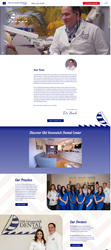 Our goal is to help our valued patients feel confident by providing them with a happy, healthy smile. We are so thrilled to be recognized as a 2019 Top Patient Rated Old Greenwich Dentist, says Dr. Greg Busch
OLD GREENWICH, Conn. (PRWEB) February 13, 2020
Since 2003, Dr. Gary Busch, Dr. Natalia Silva and the team at Old Greenwich Dental Center have helped over 15,000 patients maintain or restore their best possible smile by providing top-notch dental and orthodontic care. Patients have given exceptional ratings and reviews across multiple reputable online sources for this well-respected dental practice. As a result, Find Local Doctors has selected them as a 2019 Top Patient Rated Old Greenwich Dentist. Find Local Doctors helps patients easily locate highly-qualified and reputable physicians and dentists in their area with their trusted online directory. At this state-of-the-art practice, the caring staff provides patients of all ages with advanced dental care, including dental implants, dentures, Invisalign, dental bridges, cleanings, gum treatment, pain-free sedation dentistry and more. At Old Greenwich Dental Center, they have a fully trained and experienced orthodontist and periodontist on staff. The professionals at this dental clinic take pride in being able to address all of their patient's potential dental needs under one roof.
"Our goal is to help our valued patients feel confident by providing them with a happy, healthy smile. We are so thrilled to be recognized as a 2019 Top Patient Rated Old Greenwich Dentist," says Dr. Greg Busch
The friendly, professional team provides everything from simple teeth cleanings to in-depth and extensive treatments. They make sure patients are informed and comfortable every step of the way. In addition to receiving excellent oral health care, patients of Old Greenwich Dental Center can benefit from flexible payment plans, advanced dental care and cutting-edge technology. For convenience, they also offer appointment availability after school or work, virtually no in-office wait times and a 100% satisfaction guarantee. Most notably, patients benefit from an all-in-one dental practice, which provides experienced dental care, periodontic care (gum therapy treatment) and orthodontic care, all in one location.
More about Old Greenwich Dental Center:
Old Greenwich Dental Center is located at 182 Sound Beach Ave in Old Greenwich, Connecticut. For more information on the services provided or to schedule an appointment, please visit http://www.oldgreenwichdental.com or call (203)-717-4544.