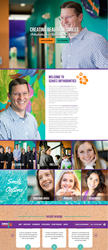 Our team at Schatz Orthodontics strives to provide the best personalized care possible for patients. We are so honored to receive this recognition from Find Local Doctors. says Dr. Eric Schatz
SAN ANTONIO (PRWEB) April 22, 2021
Schatz Orthodontics is a state-of-the-art orthodontics practice, located at 22610 US Highway 281 N, Ste 201 in San Antonio, TX. Dr. Eric Schatz is a board-certified orthodontist leading a team of highly skilled dental professionals. providing top orthodontic care for children, teens and adults. Superior ratings and five-star online reviews earned Schatz Orthodontics the recognition as a 2021 Top Patient Rated San Antonio Dentist by Find Local Doctors. Find Local Doctors is a trusted online directory, helping consumers easily identify qualified and reputable physicians and dentists in their area.
Schatz Orthodontics provides excellence in orthodontic treatment for children and adults in a relaxed, island-themed setting. One of the first things noticed about Schatz Orthodontics from the moment patients step through the door is the fun and exciting energy. The clinic's comprehensive services include all types of braces for all ages and needs, and Dr. Schatz is a certified provider for Invisalign and Invisalign Teen. Comfort is one of their top priorities, right up there with providing the best orthodontic treatments to ensure that patients acquire the beautiful smile they deserve.
"Our team at Schatz Orthodontics strives to provide the best personalized care possible for patients. We are so honored to receive this recognition from Find Local Doctors." says Dr. Eric Schatz.
More about Dr. Eric Schatz:
Dr. Eric Schatz is a board-certified orthodontist who graduated with honors from The University of Texas Health Science Center at Houston School of Dentistry. He then continued his education with a multi-year residency to specialize in orthodontics at the same university. Dr. Schatz always keeps up to date with the latest methods and technologies in orthodontics. As a part of his continuing education, he is a Diplomate of the American Board of Orthodontics and a member of various professional dental organizations, including the American Association of Orthodontists, the American Dental Association, the Texas Dental Association, the Southwest Society of Orthodontists, the Charles Tweed Foundation and the San Antonio District Dental Association.
For more information or to schedule an appointment, please visit http://www.schatzorthodontics.com or call (210) 494-4606.