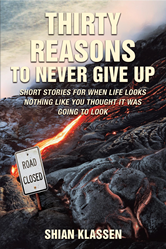 "Never let anyone break your spirit. No one should ever be given that much power over you. God is the One responsible for giving us our identity and with His help we will become the person we were created to be. He always finishes what He starts. That my friend, is why you cannot afford to give up."
DALLAS (PRWEB) November 22, 2019
Thirty Reasons to Never Give Up is a new book authored by Pastor Shian Klassen for people whose plans don't end in the way they originally intended. In his book, he narrates his encounters with different people throughout his life and how every scenario tested his willpower and faith. He delights his audience with amusing anecdotes while also touching their hearts with tragic stories, from outsmarting hungry bears during camping trips to witnessing his father's drastic decline in health and sudden passing.
A man with a supportive family and spiritual upbringing, Shian Klassen learned early on about the power of persevering through all kinds of obstacles. While the events in his book can be deeply personal, he consistently shares one specific lesson: to never give up. Every short story features an instance of when a person's life looks nothing like they imagined. His book also shows that even if one's expectations do not match reality, the Almighty Father's ultimate plan for mankind will prevail.
"God says He knew us at conception, and at conception…He placed inside us a plan and purpose tailored specifically for us. Our job, along with the help of the Holy Spirit, is to discover that plan," the author shares that all people have a God-given purpose and role that He wants every one of His children to fulfill. "We can't stop short of discovering even if it means a lifetime of pursuit. That's why we must never let a problem be bigger than our purpose. Never let a setback determine your destiny."
While every short story in Thirty Reasons to Never Give Up includes a relevant biblical verse, the author's adventures are definitely not exclusive to religious readers. He treats every hardship as an opportunity to look towards the Lord for guidance and every blessing as a moment to thank Him, from his heartbreaking divorce after over 26 years of marriage to his heroic yet accidental encounter with a man hunting down dangerous human traffickers.
When a person refuses to surrender, the author says, it does not mean they should endure everything alone. Most of his trials allowed him to speak with a confidant, in addition to praying to God for strength. He even drew inspiration from those who have been through much worse, like concentration camp survivors, during one of his ministry trips abroad.
"Never let anyone break your spirit. No one should ever be given that much power over you." Inspired by museums and other historical landmarks from World War II, Shian Klassen advises readers to fight self-doubt and thoughts of despair. "God is the One responsible for giving us our identity and with His help we will become the person we were created to be. He always finishes what He starts. That my friend, is why you cannot afford to give up."