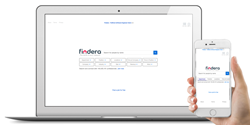 People who have jobs to offer can now expand their reach and accelerate the hiring process, regardless of the size of their company and budget.
SAN FRANCISCO (PRWEB) November 01, 2018
Findera announces today the availability of its new service to simplify recruiting for businesses of all sizes. Findera gives everyone, including recruiters and business owners, the power to find and reach out to the right people for their open jobs. People who have jobs to fill can now create job posts and contact prospective candidates by email for free, directly from the search engine.
Thanks to its innovative graph search technology, Findera understands the relationships between people and companies. This makes it easy to find people based on specific attributes about people and companies simultaneously, with one single search. For example, it only takes a few seconds to find people who have worked in engineering roles at Apple, Facebook, or Google in the past but do not work there anymore - or Directors of Marketing who have been in their position for more than 3 years at companies with more than $50M in revenue.
"Findera's key differentiator is its killer search capability. I'm able to target and filter search results more effectively in Findera than with social network based services," said Erin Flynn, Chief People Officer at Optimizely. "For example, I love being able to filter potential candidates by 'time at company' and 'time in position.' Those are key indicators of who is ready to hear about new opportunities."
Findera makes it easy to find people among 140 million professionals, using any combination of filters including location, position, department, time in position, company name, time at company, industry, company size, revenue, and more criteria. It is also possible to bookmark people matching an open job's requirements, and add them to personalized lists. Once a job post is created, it can be sent directly to the right people with the push of a button.
"At any given time, one third of all professionals are either looking for people or hoping to be found," said Christophe Daligault, Findera COO and co-founder. "People who have jobs to offer can now find and directly reach the right candidates to accelerate the hiring process, regardless of the size of their company and budget."
Findera is free to use and available at findera.com
About Findera - "The world is your network"™
Findera is a service of Yozio Inc, DBA Findera, headquartered in San Francisco. Findera was founded by Lei Sun, Li Hong, and Christophe Daligault, drawing from past experience at Microsoft, Netflix, Visa, Yahoo, and elsewhere. The company is backed by investors including AME Cloud Ventures, Foundation Capital, Illuminate Ventures, Morado Ventures, and the Webb Investment Network.