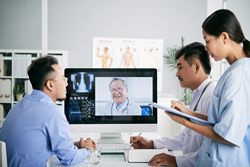 NEW YORK (PRWEB) April 17, 2019
As is with many things today, finding a doctor is very different from when your parents went to their "family doctor". Things have changed drastically – both medically and socially. It is critical for patients today to understand these changes and ensure that they understand what top doctor awards mean in today's ever-changing healthcare environment.
While in years past, multiple generations of a family saw the same doctor (and often generations of that doctor's family), this is rarely the case in the much more mobile world of today. It is likely that the doctor you may have seen as a youth is no longer available to you due to your new location or employment situation.
Due to the many changes in employment and union workplaces, access to health insurance has undergone significant changes. It is not unusual for an employee's health insurance provider to change from year to year. This often requires a change in doctors to ensure their physician is "within plan" and therefore covered. Additionally, with the growth of two income families, spouses may often be covered by different insurance plans and required to see different doctors.
Along with these changes, medical science, procedures, treatments, and drugs have experienced an incredible advancement. This has resulted in various treatment options and decisions that need to be made by patients. This, taken with a large increase in health and medical information available to patients by the internet, has resulted in a new understanding that patients need to be their own advocates in an increasingly complex healthcare industry. The vast amount of information has threatened to overwhelm individuals.
So how does a patient evaluate top doctor awards? Are they provided with the necessary information to make an educated decision given their specific needs?
As with many things today, the answer is the internet. Patients now seek information on physicians in the same ways they seek information on contractors, landscapers, tax providers, etc. They search online for professionals that meet their required needs, are locally accessible, and research their reviews. Top doctors today understand this. They ensure that they have an online presence that provides extensive and relevant medical information to visitors to their website. They maintain social media sites to stay in contact with their patients in this increasingly mobile world. And, possibly most important, they seek and encourage reviews from their patients to educate prospective patients about their abilities and services.
Those doctors conferred with top doctor awards are confident about the new reality and do not fear the increased communication it offers.