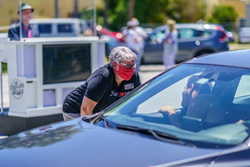 It just helps you know that you are not alone in this situation no matter how alone you feel.
ORLANDO, Fla. (PRWEB) April 30, 2021
Five hundred, twenty-five thousand, six hundred minutes is no longer solely the name of the touching song from Rent, or merely the number of minutes in a year, this number now signifies the length of time all of us, including arts/entertainment professionals, have dealt with COVID-19. Five hundred, twenty-five thousand, six hundred minutes of fear, uncertainty, sadness, and acceptance have been the roller coaster of emotions Orlando's theme park employees and performers have experienced while worrying about how to put food on their tables.
At the onset of the pandemic many furloughed and unemployed entertainers in Orlando, FL began attending St. Luke's United Methodist Church's "Supporting HEARTS" Tuesday food distribution to stretch every dollar. What began as an initiative to ensure food security for those in Central Florida's entertainment industry, quickly blossomed into a weekly reunion with friends and colleagues that includes an infusion of hope and a sense of family in the midst of isolation. Supporting HEARTS hopes to continue providing free fresh produce and pre-packaged meals as long as needed. Individuals, community organizations, and businesses are encouraged to donate by visiting: https://www.st.lukes.org/supportinghearts
Nicole Siscaretti, a volunteer and arts supporter, said: "The arts add so much to our lives and culture and theme park performers have a special place in my heart. I care deeply about Central Florida's arts and entertainment professionals and want to uplift that community and their families through Supporting HEARTS. I feel honored to volunteer, using my resources and connections as a content creator to create awareness and raise funds and encourage others with an online audience to as well." Siscaretti set up a fundraising team on the Supporting HEARTS GoFundMe page https://charity.gofundme.com/o/en/campaign/supportingheartsorlando to inspire other theme park lovers to join the cause as well.
Steve Fessler, one of the founders of Supporting HEARTS shared that performers and entertainers "have fed our souls for so long that it is time that we, as a community, step up and give back to our arts and entertainment professional in a meaningful way." Billy Flannagan, a Walt Disney World Cast Member and Supporting HEARTS volunteer said, "As both a volunteer and recipient of the generous food donations at St. Luke's, I am compelled to say what an impact this has had on me during these tough times. Watching the faces as we load the cars with produce, meals, snacks, milk, eggs, flowers or whatever it is that week, is priceless. The gratitude that is expressed goes beyond heartwarming. From the entertainment to the volunteer crew to the donors, the time and monetary donations are so needed and much appreciated."
Cami Miller is a multi-talented local performer/entertainer who was devastated by the loss of her Disney career. She said, "I struggled this year; I hit low points and I would wish that on no one. I went the first week as someone who received the food and I was so moved by the volunteers and what they were doing, that I started decorating my car and doing the drive through that way. I'd park my car where others could see it just to hopefully help them feel inspired because if I could do anything, I wanted to be able to help, even if it's just to make them smile or lift them up. My car is a Kia Soul and I called it, "Message from the Soul." I did that for a few weeks and then I asked how/where they needed help. I started doing inspirational quotes with index cards and I would let the volunteers pick them out of a little baggie and I would take it to my mirror on Message from the Soul and they'd get to walk up and take a little message each week; it was their inspiration for the week. Eventually, I was asked to perform and greet the cars, like take on characters; I took it as a challenge to create a different character each time."
Miller isn't the only one who has been able to utilize her gifts and talents in a way that was rewarding; Mike Weakley, a freelance stilt walker, read an article in the Orlando Sentinel about Supporting HEARTS and was moved to offer "a glimpse of 'normal' and fun again to my peers who so desperately needed it."
"COVID dramatically impacted my business last year. I was completely out of work for about 3 months once the lockdown happened, as was my wife…we both suddenly lost our incomes and health insurance. It was a pretty scary time for us." A professional in the industry for over 30 years—the most recent 11 of which as a freelancer—Weakley has dedicated his entire adult life to making others smile and laugh, to entertaining. "I know how depressed and hopeless you can become as an entertainer when your entire industry suddenly comes to a grinding halt and you have no idea when/if things will ever become 'normal' again…Hopefully, by seeing me when they come to pick up some food, they'll end up with a smile on their face that would not have been there otherwise and a bit of hope that things will change and get better soon."
The pandemic, the quarantine, the silence and the distance of the past year have illuminated that, as a culture, we crave closeness, connection. Entertainment is unique in the "business" world for a lot of different reasons, but one of the biggest is the sense of camaraderie and kinship that forms among performers. Almost more devastating than the loss of income and stability, was the loss of physical support.
"Being part of the local arts community here in Orlando means a lot. I find that I've always felt, since I first began, that our community is truly that; we are a community, we are a family. I think that through this pandemic and the consequences, the effects of it as well, it has brought us closer together," said Alina Alcántara, an accomplished, professional performer and member of St. Luke's. Alcántara joined the church after performing in St. Luke's 2016 production of "Big River." "That sense of community, of family, of belonging, inclusivity, compassion...I found home." Alcántara is not the only one from the arts community who found her way to St. Luke's; the church's thriving theatre ministry engages hundreds of Central Florida performers each year. "To see how we stepped up in the middle of all this to begin with the distribution of the meals it certainly has meant a lot for me personally—I have benefitted from it, the partaking of the meals, of the produce, the groceries that have been distributed, bringing it home for my family. Knowing friends of mine that have been in or are in more dire situations, this has been a lifeline for them. Not just physical resources, but also emotionally, mentally, spiritually because for many of us it's not even about the food, sometimes it's just the stopping by and being around people who we know and love and just being able to see each other."
When asked what this has all meant to her, Miller said, "it gives me a purpose to get up out of bed every Tuesday. I feel when you focus your energy on others who are hurting and you focus all of your pain and hurt into helping create happiness or a smile or show others that you care, it's healing for you. Your pain somehow becomes less. It just helps you know that you are not alone in this situation no matter how alone you feel. I like to tell everyone, 'I see you; I'm thankful for you; you matter and I love you.'" As we—a local community, a nation, a people—begin the slow return to normal, Miller's declaration reminds us that the best of us are still only human and all we can do is be kind and love one another.
To help provide food security for Central Florida's arts and entertainment professionals, visit https://www.st.lukes.org/supportinghearts and donate today.
###
About St. Luke's United Methodist Church - St. Luke's United Methodist Church is located in Orlando, FL. The church values Christ-centered love lived out through acceptance, hospitality, community, discipleship, and service. Theater at St. Luke's stages award-winning theater productions that help share the church's core values with thousands of audience members each year.
###
About Supporting HEARTS - Supporting HEARTS is an outreach initiative through the non-profit St. Luke's United Methodist Church in Orlando, FL. Supporting HEARTS was established with the mission to help distribute meals and fresh produce to all of the incredible members of the Central Florida arts community who have made bringing joy and entertainment their life's work. Supporting HEARTS operates every Tuesday from 11:00 a.m. -12:00 p.m. on the St. Luke's campus (4851 S. Apopka-Vineland Rd. Orlando, FL 32819)