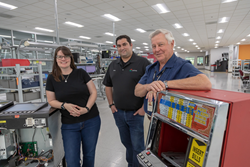 "It is true that jobs for people doing repetitive tasks are being replaced by machines. But these machines create new jobs that provide higher wages for people who build, install, maintain, or repair them." said Sierra College Mechatronics Professor Mike Halbern.
AUBURN, Calif. (PRWEB) September 07, 2018
Alex Luebkeman looks out the floor-to-ceiling window in his office to a grassy area with a stream running through it, where black swans preen in the morning sun. He works for Ceronix, located within a sanctuary for exotic birds in Auburn, California. Ceronix produces circuit boards and flat-panel LCD monitors primarily for gambling and lottery machines, point-of-sale terminals, and kiosks. The sanctuary, created by the founder of the company, is there not just to provide a haven for the birds and provide the community with a beautiful preserve, but also to enhance the work environment.
A Sierra College graduate with an Associate Degree in Mechatronics, Luebkeman is the technician who maintains the plant's automated assembly line conveyor system, but this was not his original career plan. Following his father's example, Luebkeman had attended San Jose State where he earned a Bachelor's Degree in Administration of Justice and planned to become a police officer. "At the police academy, I realized this wasn't what I wanted to do," he said. So, he went back to school, this time at Sierra College where he discovered mechatronics. "I realized that with this training, I could get a job that combined mechanical devices with electronics and computers, my real-life interests."
The hands-on learning approach of the program "really clicked" for him. "You get in there, pull out a circuit board and start soldering." He acquired a knowledge base of just about everything a worker might encounter in the field, he said. This included an understanding of computer hardware and software, electronic circuits, motors, pneumatics, and hydraulics. "It's amazing how much of that I use. For every course I took, I find an application here at Ceronix."
Betting on Yourself
Don Whitaker is the founder and CEO of Ceronix. "I grew up in the ghetto of Oakland and got married with $200 in my pocket," he said. "I couldn't afford to go to a university." Instead, he went to the Laney Trade and Technical Institute in Oakland, now part of Laney Community College.
He took electronics courses and earned an associate degree in 1963 in mechanical and drafting technology. "I got the basic knowledge at Laney," he said, "and learned how to build things." He went to work as an apprentice machinist for Marchant Calculating Machine Co., which closed in 1963 with the advent of electronic calculators.
With help from a professor and mentor at Laney, Whitaker found a new job with Lawrence Berkeley Labs at UC Berkeley. He worked as a machinist and then advanced to manager of research projects with a $7 million budget, which is equivalent to $58 million in today's currency. There, he saw commercial value in one experiment, the Silicon Lithium Drift Detector. Used for x-ray spectrometry, it could detect, in parts per billion, each of the elements in any sample of material it analyzed.
He talked to some graduate students about starting a company to build the detectors. "My wife Kay was very supportive," he said. "We put everything we had into it and named the company Kevex." After ten years, he left behind the security of his job at Berkeley to develop Kevex. "I was betting on myself," he said.
Whitaker described Kevex as a rocket ride. By 1979, it had over 400 employees and income of $60 million (equivalent to $350 million in 2018). In response to a lucrative offer, he sold the company and went to retire with his wife Kay in the gold rush town of Auburn. They built a second house in Squaw Valley and traveled the world. However, Whitaker soon decided that a life of leisure was not for him, and he started looking for a new business venture.
During a trip to Las Vegas in 1983, amidst the rows of slot machines at Bally's casino, he saw one of the first video poker machines. "It looked like the future, except for the black and white monitor which I'd make in color," he said. "All the slots were mechanical then, but here was a digital computer running a gaming machine." Back in Auburn, with his wife and an engineer he had known in Silicon Valley, he started the new company Ceronix in his garage.
In his first business, Kevex, Whitaker had built a detector that flew to Mars to analyze the planet's soil. Now he was going to build components for the first touch-screen gaming machines. Both ventures combined technologies into what are now known as mechatronic systems. Mecha is for mechanics and tronics is for electronics, hence, mechatronics. Robots, like the dozens building electric cars at the Tesla factory in Fremont, California, are an example of a mechatronic system—mechanical devices integrated with electronics and computer control.
"Robots are getting a bad rap," said Sierra College Mechatronics Professor Mike Halbern. "It is true that jobs for people doing repetitive tasks are being replaced by machines. But these machines create new jobs that provide higher wages for people who build, install, maintain, or repair them."
Sierra College mechatronics graduates have found good-paying jobs repairing elevator controls in Sacramento; calibrating precision automated equipment that keeps the Roseville water supply safe; and looking after the computer-controlled equipment that makes possible the fantastic staging of Cirque du Soleil in Las Vegas.
Breaking through Stereotypes
Jillian Haynes is a single mother with an Associate Degree in Mechatronics from Sierra College who has worked at Ceronix for seven years.
Before that she had been working in customer service, but she wanted to do something else—"to work with my hands," she said. Surfing the web in search of a new career, she had stumbled upon Mechatronics.
"When I was little, my dad taught my brothers to build and fix things," she said, "while my job was to hold the flashlight." She wishes that she had stood up to say, "I want to help you fix that, as I should have." Instead, she learned to care for the little ones and do other "girl things." When she came to her first mechatronics course, everything was new to her; "Even screwdrivers were new."
As one of only three women in her classes of thirty students, she remembers that the students who knew about mechanical things liked to help. "I'd watch them and ask questions. It was fun making friends that way."
By her second year at Sierra, she was taking apart any discarded device she could find to look at the electronics and see how it worked. "It had never occurred to me that these computer things had parts inside that could break and need repair." At Ceronix, Hayne's primary job is to repair monitors and circuit boards under warranty.
Her advice for new mechatronics students? "To really learn what they're teaching you," she answered. "Even now my fellow technician Alex and I want to go back to Sierra and re-take an electronics class because we weren't paying close enough attention."
Whitaker pays the cost for employees to improve their education. "Jillian wanted to take up welding," he said. "So we sent her back to Sierra, and now she's our welder."
Never Give Up
Whitaker started Ceronix in 1983. The business grew with the emergence of notebook computers and handheld devices; by 1996, he had 100 employees building 150,000 LED monitors per year. As demand accelerated in the late 1990s, screen makers built plants in Korea, Taiwan, and China where they conspired to fix prices and dump monitors, causing US manufacturing to collapse.
"Here was a trillion-dollar industry, among the most competitive in the world," said Whitaker. "Within years it was all gone in the US." Ceronix could no longer compete with offshore companies building monitors in high volume and sold at low cost. "But I wasn't going to give up," he said. "It's not in my nature." He changed his business model to serve the replacement market. While it takes at least eight weeks to get a monitor or circuit board from China, Whitaker provides next-day service. "We found a way to survive," he said, "and to survive well."
Today, Ceronix has twenty-four employees who earn good money and have excellent benefits. Whitaker is proud that one hundred percent of the product is assembled in his hometown of Auburn, where he is able to find "a qualified work-force and highly trained people."