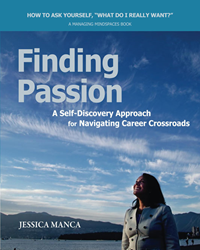 No matter what our starting point, it's never to late to reconnect with ourselves and what we crave.
Vancouver, BC (PRWEB) November 19, 2014
Jessica Manca, Founder, Author and Coach at Managing Mindspaces, reflects on her book's journey since being published on year ago just how universal and common disengaged employees contemplate radical career changes. "Finding Passion: A Self-Discovery Approach for Navigating Career Crossroads" (Managing Mindspaces 2013) has gained broad appeal for those looking for reinvention across a variety of life transitions.
The book is ideal for MBA graduates, mid-career individuals and those in early retirement ready for making a change. Unlike a traditional self-help book, "Finding Passion," was created with self-discovery practices used in coaching and personal change theory to help readers realign, gain clarity and move out of a place of feeling stuck.
The book's strategies and worksheet exercises help readers figure out career decisions they face and how to make informed lifestyle decisions that impact their health, happiness and family life. For some, the result may be life-changing career moves and for others, it may mean a shift in how they approach their current career.
Manca documents the warning signs that led to her departure from the corporate world in 2012. After overcoming career burnout and working with a professional coach as to her next career move, she founded Managing Mindspaces and rediscovered her passion for coaching individuals.
Since making the leap to becoming an entrepreneur, Manca has helped hundreds of individuals through 1:1 coaching, her books, articles, and online DIY self-discovery resources. Her mission is to empower others to make Mondays and everyday, meaningful.
Manca shares, "Finding my passion has ultimately unlocked me from the knowledge that I had this capacity within me that felt wasted in my corporate career. I knew I was meant to do something else, despite having the achievements of traditional success. I was paid well, and my life looked good on paper, but I wasn't satisfied. My gas tank was always on empty, and the thought of going to work on Monday was something I absolutely dreaded."
Manca recommends three key steps to designing a career with no regrets:
1. Know what you value to understand what you want. Define personal values, and use these values on a daily basis for guidance, living authentically and helping make decisions.
2. Increase self-awareness and listen to your intuition. Spend time in reflection to learn yourself, and surrender to intense feelings when intuition sends you signals.
3. Recognize that passion and purpose are within reach right now. In most cases, our limiting beliefs, our fears and our lack of permission to create the life we want get in our way. Subsequently even when these blockers are understood and managed, you may experience negative self-talk or adhere to environmental pressures to remain the same.
"No matter what our starting point, it's never to late to reconnect with ourselves and what we crave. I'd love everyone who resonates with this challenge to find the best resource to help you - a book, a friend, a mentor, the internet. You're not alone, and the learning you must do to live with no regrets is ultimately your responsibility. I can't tell you what your passion is, but I can share with you a framework for asking yourself 'what do I really want?," advises Manca.
For over 20 strategies and the 10-Step Finding Passion Method™, purchase a copy of "Finding Passion" today, available in Paperback and Kindle editions.
Finding Passion
A Self-Discovery Approach for Navigating Career Crossroads
by Jessica Manca
Publisher: Managing Mindspaces
Language: English
Paperback; $18.95; 148 pages; 978-0992082307
E-book; $9.95; 978-0992082314
Available at Amazon and Kindle Stores.
About Managing Mindspaces
Managing Mindspaces provides sensible career, executive and personal coaching services to mid-life professionals making informed life-changing career decisions. Manca is a Certified Executive Coach (CEC) and an Associate Certified Coach (ACC) by the International Coach Federation. Manca serves clients across North America, and resides in Vancouver, British Columbia with her husband and son. For more information, visit http://managingmindspaces.com.