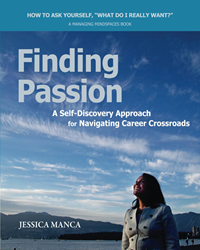 Now's not the time to give up, but to refocus what's not working to make the changes you crave.
Vancouver, BC (PRWEB) January 30, 2015
Making a career change requires a strong commitment to oneself. Despite an intent to make a change, people may find themselves in a repeating pattern in their career that leaves them feeling stuck and unfulfilled. Finding Passion, A Self-Discovery Approach for Navigating Career Crossroads (Managing Mindspaces 2013) by Coach Jessica Manca delivers an inspiring roadmap for figuring out what one wants in a career, asking the questions many find it difficult to ask themselves. The Kindle e-book goes on sale Friday, January 30th, on Amazon.com in advance of Groundhog Day 2015.
Earning her Certified Executive and Associate Certified Coach credentials after retiring her 15-year management consulting career, Manca shares coaching and self-management strategies within the do-it-yourself workbook. She believes that passion is the answer for looking both inward and forward when making decisions in life.
Manca shares, "February 2nd, Groundhog Day is the perfect excuse to check-in with your goals and intentions for 2015. If you're not on track, find an accountability partner to keep you on track. Now's not the time to give up, but to refocus what's not working to make the changes you crave."
Finding Passion is a roadmap for anyone—from midlife corporate professionals to small business owners, and from new graduates to near retirees—searching for a clear vision for the future to maintain a steady focus, have personal balance and navigate life and career transition. Following the stages of personal change, Manca offers over 20 sensible, self-discovery strategies in addition to the 10-step Finding Passion Method™ and exercises within the workbook for those who want a life of "no regrets."
She adds, "It's an intimate journey to finding passion, and a person's starting point may vary. But the real work is challenging old thinking and assumptions while getting to the roots of dissatisfaction within a person's career. So often, we hold ourselves back and hide the truth. This resource is a guide to undo that and experience freedom with our everyday decisions, living true to who we already are."
To start reading in under a minute, and to order a copy of the ebook, visit Finding Passion on Amazon Kindle.
For those without a Kindle device, Amazon provides a free download Kindle app for smartphones and tablets to take advantage of this online sale.
FINDING PASSION
A Self-Discovery Approach for Navigating Career Crossroads
by Jessica Manca
Kindle Download Product Details
File Size: 1936 KB
Simultaneous Device Usage: Unlimited
Sold by: Amazon Digital Services, Inc.
Language: English
ASIN: B00DJE9YTM
Text-to-Speech: Enabled
Lending: Enabled
Book available for free download for Amazon Prime members.
About the author: Jessica Manca, CEC, ACC is a Certified Executive Coach and Founder of Managing Mindspaces specializing in personal transformation. Her sensible career and personal coaching programs provide mid-life professionals with strategies and accountability to design a life with "no regrets." Her debut book "Finding Passion," delivers self-discovery exercises to challenge assumptions, reduce overwhelm, and prepare to make career and life decisions with ease. Read more at managingmindspaces.com. Follow her on Twitter, @mgingmindspaces, or on Facebook, facebook.com/ManagingMindspaces.