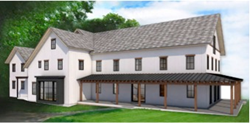 "This opportunity to cover the Greenwich remodel is a natural progression of our commitment to use on-the-job-site experiences to educate professionals on quality design and purposeful building aspirations, and advance the conversation on home-remodeling choices." - FHB's Renee Jordan
NEWTOWN, Conn. (PRWEB) January 22, 2020
Fine Homebuilding is the trusted industry leader in providing residential building and design information for professional builders, architects, and designers, as well as hands-on homeowners. Today, the company announces one of its most progressive initiatives to date: The 2020 Fine Homebuilding House remodel project in Greenwich, Connecticut.
For the first time, the Fine Homebuilding House will feature a complete gut-remodel. Past Fine Homebuilding Houses have been new-construction, demonstration-home showpieces, but the 2020 project will transform a 1940s traditional colonial into a contemporary farmhouse with clean modern lines. Inside the house, all three levels will be stripped back to the studs and the floor plans will be reconfigured for 21st-century living. The new house places the kitchen at the center of the home with an open floor plan for entertaining while also adding a home office, media room, and guest quarters. Updated with exceptional craftsmanship and upscale finishes, the 6-bedroom, 7-full-bath house will be comfortable in every sense of the word—from the high-end kitchen and spa-like bathroom suite to the high-performance building envelope. Air-sealing, insulation, and efficient mechanical systems paired with a solar array will bring an 8,000-square-foot house, originally built in the age of cheap energy, to complete net-zero-energy consumption.
Sean Groom, project manager of the Fine Homebuilding House Connecticut remodel, notes that the project has two intertwined goals: "The clients' aim of recreating the house with their contemporary design aesthetic and configured for modern living includes retrofitting the house to high-performance building standards. The entire team recognizes the importance of improving the energy performance of existing housing stock. Bringing Passive House building techniques and efficiency to an 80-year-old house while updating it with careful craftsmanship and luxurious finishes, is the ideal remodeling outcome."
MORE THAN ANOTHER SHOW HOME - INNOVATIVE LEADERS WORKING TOGETHER TO BUILD BETTER-PERFORMING HOMES
Fine Homebuilding's mission with the 2020 Fine Homebuilding House remodel is to showcase building education and elevate the knowledge of best construction practice, along with the products and processes chosen to fit the system of the house to achieve energy and overall performance goals as well as high-end design.
Justin Fink, editorial director of Fine Homebuilding, adds: "We've raised the bar higher and higher on each of the past four Fine Homebuilding House projects, but this year's remodel will be our best yet. The audience will have a chance to follow the entire nine-month-plus deep energy retrofit in video, week by week, from start to finish, with extensive coverage."
Fine Homebuilding has teamed up with the local, Ridgefield, Connecticut, boutique firm Trillium Architects. Principal architect and founder, Elizabeth DiSlavo, is renowned for designing energy-efficient, environmentally responsible, healthy homes. The firm brings a refined aesthetic sensibility and deep understanding of materials and energy performance to each project and has been recognized nationally and internationally for its high-performance houses. In addition, the 2020 Fine Homebuilding House will be remodeled by frequent Trillium Architects collaborator, BPC Green Builders of Wilton, Connecticut. Founded by brothers Mike and Chris Trolle, this team has built the first PHIUS-certified Passive House in Connecticut and have gone on to build many PHIUS- and LEED-certified projects that have won national and state awards for their energy performance and building innovation.
Renee Jordan, publisher of Fine Homebuilding, elaborates on the importance of this project, "this opportunity to cover the Greenwich remodel is a natural progression of our commitment to use on-the-job-site experiences to educate professionals on quality design and purposeful building aspirations, and advance the conversation on home-remodeling choices. We are storytellers, and are excited to see this one come to life across all of our media platforms, not only for our audiences, but also for our partners who are bringing their commitment to innovation and sustainability in the building industry to this project."
Brands that are interested in being integrated and featured in this exceptional home remodel are invited to reach out to associate publisher, Noelle Kennedy, at NKennedy@taunton.com or 203- 304-3530.
About Fine Homebuilding
Fine Homebuilding is the most trusted and authoritative resource for the residential construction and remodeling community. We uniquely source our content from the job sites and design offices of the most qualified and talented builders and designers in the industry to empower a global workforce with the ability to create the most advanced homes possible. Driven by the ethos that exceptional homes are possible, and that craftsmanship is an honorable and worthy pursuit, Fine Homebuilding has become the brand for skilled practitioners, deeply knowledgeable enthusiasts, industry influencers, and forward-thinking companies who are collectively committed to shaping the way we build. http://www.finehomebuilding.com
With the #KeepCraftAlive campaign, Fine Homebuilding is leveraging all of its resources to bring awareness to the skills gap cause, partnering with industry organizations and influencers to build awareness of the skills training and educational opportunities that exist in this country, and funding student scholarships with SkillsUSA to support those who want to pursue a path in the trades. Fine Homebuilding is committed to celebrating the value of true craftsmanship in all trades in order to influence the cultural narrative about what it means to be a respected, successful professional.
For more information about Fine Homebuilding and the #KeepCraftAlive initiative, visit http://www.keepcraftalive.org.