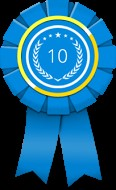 NEW YORK (PRWEB) December 27, 2018
10 Best Design is excited to announce the award winners in its Best Magento Web Design Firms category for December 2018. This month's list includes Ruckus Marketing, SPINX Digital and EIGHT25MEDIA.
Following is a rundown on this month's winners. For the monthly list published on December 2, 2018, the best Magento web design firm was Ruckus Marketing. SPINX Digital came in behind Ruckus' 98-percent rating with a 96-percent score. SPINX Digital is a common a contender for 10 Best Design's awards for best Magento website development agencies in the United States. Leading web design firm EIGHT25MEDIA earned December 2018's bronze medal with a score of 94%.
Magento is a standard tool for building eCommerce websites, which are increasing in number due to the growth of online shopping. 2016 marked the first year that more items in the United States were purchased from the Internet than in traditional, in-person settings. Today, online shopping takes up a larger share of the entire retail marketplace by dollar amount than its traditional counterpart. As such, having a solid eCommerce hub is more important than ever before.
This is the main reason why Magento is so prevalent among businesses that sell products online. In fact, Magento comes in third place in the global rankings of websites that utilize eCommerce technology, according to Built With, behind WooCommerce Checkout and Shopify. eCommerce is quite popular, with roughly 30 percent of the 1,000,000 most popular sites utilizing eCommerce technology. As such, roughly 27,000 of the World Wide Web's most frequently-trafficked websites rely on none other than Magento to facilitate transactions between Internet-browsing consumers and those 27,000-odd aforementioned businesses.
Just like WordPress, Magento is an open-sourced content management system (CMS). Whereas the former CMS is responsible for powering some one-third of the entire Internet, Magento is not quite as popular. However, Magento is widely popular among proprietors that sell either part or all of their goods online. This is especially true for the latter.
Magento is similar to WordPress in that both of the content management systems have free, open-source versions, making it possible for small businesses, sole proprietorships, and businesses with little capital or an absence of financing to get started on the World Wide Web. Because Magento can easily be customized, businesses often pay website designers to mold their Magento sites to their particular wants and needs. They are particularly pushed to pay for these services because far too many Magento sites look nearly exactly alike one another.
10 Best Design helps inform the public of what its experts claim are among the upper ranks of consideration for the name of the best Magento website development agency. The company recently started releasing ranked lists on a month-by-month basis of what the best Magento website developers are said to be. For more information about this month's winners in this area, visit http://www.10bestdesign.com.